Anjana Jeyaram Named PhRMA Foundation Predoctoral Fellow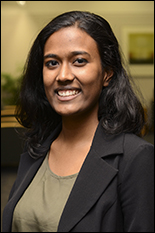 The Pharmaceutical Research and Manufacturers of America (PhRMA) Foundation awarded Fischell Department of Bioengineering (BIOE) Ph.D. student Anjana Jeyaram a two-year, $20,000-per-year predoctoral fellowship in pharmaceutics.
Jeyaram, a member of BIOE Assistant Professor Steven Jay's Biotherapeutic Development and Delivery Lab, was recognized for her extensive research on engineering extracellular vesicles (EVs) to enhance therapeutic efficacy and clinical translatability. She recently published a review article outlining key considerations in her work in AAPS Journal in a piece titled, "Preservation and Storage Stability of Extracellular Vesicles for Therapeutic Applications."
EVs are ubiquitous, biologically-generated nanovesicles that are released by cells and have the ability to naturally transfer nucleic acids. Because of their role in intercellular communication, EVs have emerged as potential therapeutic delivery vehicles. EVs may have the ability to cross biological barriers that often inhibit drug delivery, such as the blood-brain barrier.
But, researchers face a number of challenges when it comes to storing EVs for clinical use and loading therapeutic cargo into EVs.
"Current exogenous loading methods are inefficient and may damage EV cargo, limiting therapeutic effectiveness," Jeyaram said. "The stability of EV formulations must also be evaluated to preserve potency after storage for clinical use. Lastly, delivery of EVs by conventional routes of administration results in non-specific biodistribution, limiting efficiency."
Recognizing this, Jeyaram envisioned a way to improve the therapeutic efficacy of EVs.
By delivering vesicles with controllably increased levels of specific miRNAs within a biomaterial vehicle, Jeyaram proposes a way to promote sustained retention at the target site.
Moving forward, she aims to enhance EV bioactivity through active loading of miRNAs, and optimize extracellular storage protocols to enhance long-term cargo retention and bioactivity. Additionally, Jeyaram is working to increase EV retention time in the target area while enhancing therapeutic outcomes using an injectable hydrogel-mediated delivery.
"Being awarded this fellowship is a great honor and has validated the importance of the work I have done so far," Jeyaram said. "This opportunity will support my continued research in understanding and developing EVs as an emerging class of therapeutic."
Originally from Mount Olive, N.J., Jeyaram graduated with a B.S. in biomedical engineering from Boston University in 2014.
As a Terp, she has served as a representative in the Bioengineering Graduate Student Society (BGSS) for the past two years, and as an E-mentor for the Leadership, Engineering, and Design Program (LEAD) at Elizabeth Seton High School in Bladensburg, Md.
Jeyaram has presented her work at the International Society of Extracellular Vesicles annual meetings in Washington, D.C. and Toronto, as well as at the Extracellular RNA Communication Consortium semi-annual meeting in Rockville, Md.
Published January 25, 2018