Josh Gammon Named PhRMA Foundation Doctoral Fellow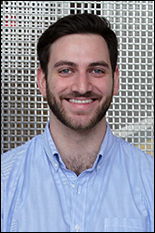 Fischell Department of Bioengineering graduate student Josh Gammon was named the recipient of the PhRMA Foundation Pharmaceutics Fellowship. The two-year doctoral fellowship will support Gammon's research using modulatory signals to control immune function.
The Waldorf, Md. native is working in the Jewell Research Lab to apply biomaterials for the controlled delivery of immunomodulatory agents and antigens to develop more effective and safe treatments for autoimmune disease and cancer.
"This fellowship will provide me with additional funding to conduct proposed experiments, and the opportunity to present my research and network with my peers at conferences in the future," Gammon said.
Gammon graduated with a B.S. bioengineering from the Fischell Department of Bioengineering in 2012. Prior to receiving the PhRMA Foundation fellowship, he also received a Pediatric Oncology Student Training award from Alex's Lemonade Stand Foundation.
Published June 5, 2017