Arjun Adapa Named 2016 Fulbright Grant Recipient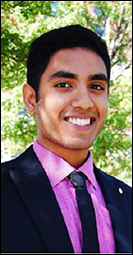 Fischell Department of Bioengineering (BioE) senior Arjun Adapa was named the recipient of a Fulbright U.S. Student Program grant to The Netherlands in the field of Biology. The award is granted by the U.S. Department of State and the J. William Fulbright Foreign Scholarship Board.
Adapa will conduct research under Dr. Inge Zuhorn of the University Medical Center Groningen. His project, "Nanoparticle-mediated siRNA Targeting of BACE1 for Subduing Alzheimer's Neuropathology," will focus on work with biomaterial-based gene carriers to stop Alzheimer's disease. Adapa will aim to develop nanoparticle carriers for small-interfering RNA targeting BACE1, a critical gene involved in Alzheimer's progression, to overcome challenges with drug delivery.
Adapa, a member of BioE's Jewell Immune and Autoimmune Engineering Laboratory and the University of Maryland University Honors College Gemstone Program, also received a Howard Hughes Medical Institute (HHMI) grant in 2015 to support his research.
"For the past three years, I have been working in Dr. Christopher Jewell's lab to design biomaterial-based drug carriers to attenuate autoimmune diseases," Adapa said.
That's where he first became fascinated by the science of drug delivery and modifying immune responses to fight cancers and autoimmune disorders.
"During my junior year, as a UM Scholar at UMB School of Medicine, I investigated how nanoparticles can be delivered more effectively in the brain to ultimately treat brain cancer," Adapa said. "This Fulbright is a symbol of the union of two interests I gained in college - drug delivery and neurological disorders."
Adapa noted that the grant will allow him to engage with scientists, students, and perhaps even patients from a different part of the world.
"Seeing how research and medicine is conducted abroad while gaining relationships and developing new communication skills will make me a better scientist and, ultimately, a better physician," he said noting that upon his return to the U.S., he will attend medical school at the University of Michigan.
Adapa is one of over 1,900 U.S. citizens who will teach, conduct research, and provide expertise abroad for the 2016-2017 academic year through the Fulbright U.S. Student Program. Recipients of Fulbright awards are selected on the basis of academic and professional achievement as well as record of service and demonstrated leadership in their respective fields.
The Fulbright Program is the flagship international educational exchange program sponsored by the U.S. government and is designed to build relations between the people of the United States and the people of other countries that are needed to solve global challenges. The Fulbright Program is funded through an annual appropriation made by the U.S. Congress to the U.S. Department of State. Participating governments and host institutions, corporations, and foundations around the world also provide direct and indirect support to the Program, which operates in over 160 countries worldwide.
This year marks the 70th anniversary of the Fulbright Program's establishment in 1946 under legislation introduced by U.S. Senator J. William Fulbright of Arkansas. Since then, the Program has given more than 360,000 students, scholars, teachers, artists, and scientists the opportunity to study, teach and conduct research, exchange ideas, and contribute to finding solutions to shared international concerns.
Fulbrighters address critical global challenges – from sustainable energy and climate change to public health and food security – in all areas, while building relationships, knowledge, and leadership in support of the long-term interests of the United States and the world. Fulbright alumni have achieved distinction in many fields, including 54 who have been awarded the Nobel Prize, 82 who have received Pulitzer Prizes, and 33 who have served as a head of state or government.
Fulbright recipients are among over 50,000 individuals participating in U.S. Department of State exchange programs each year. The Fulbright U.S. Student Program is administered by the Institute of International Education.
More information about the Fulbright Program is available online.
Published May 2, 2016