Bentley Featured in Science Update Podcast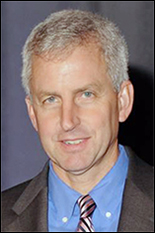 Fischell Department of Bioengineering (BioE) Chair and Robert E. Fischell Distinguished Professor William E. Bentley was featured in the May 15th episode of the Science Update podcast.

Hosted by Science Update Executive Producer and Host Bob Hirshon, the episode focused on Bentley and his research team's work engineering bacteria that can act as "smart drug delivery machines."

In the podcast Hirshon stated, "Bentley and his colleagues are building E. coli that return to their natural habitat—the body—to fight cancer and pathogens."

"It's complicated because there's all sorts of molecules around that cells always experience and change their behavior, and so we want to make sure that they stay on task," Bentley told Hirshon.

Bentley also told Hirshon that bacteria "can work together" to recognize and eliminate disease tissue or pathogens.

Listen to the full podcast on ScienceUpdate.com.

Science Update is a daily, 60-second feature covering the latest discoveries in science, technology and medicine. Produced by the American Association for the Advancement of Science (AAAS), the world's largest general science society, Science Update has reported on thousands of scientific and medical breakthrough—and won dozens of national awards—since its inception in 1988.


Published May 25, 2015