Biofilm Project among UMD Scientific Experiments Sent to International Space Station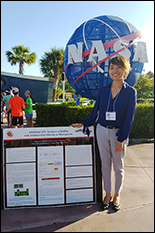 On August 14, 2017, researchers at the University of Maryland sent an innovative biofilms experiment to the International Space Station (ISS) aboard the SpaceX-12 Commercial Resupply Service mission. Footage of the SpaceX launch is available online.
Fischell Department of Bioengineering undergraduate Stacey Mannuel and physics and chemistry double degree candidate Colton Treadway will explore the effect of microgravity on biofilms – slimy layers of bacteria that adhere to each other and to virtually any surface. Biofilms show much greater tolerance to antibiotics than individual bacteria and are associated with bacterial infections that can lead to death.
Previous research has also shown that biofilms grow more readily in microgravity, which might enable enhanced antimicrobial treatment opportunities.
The students sent to the ISS a multi-chamber tube containing bacteria, a growth medium and a wafer comprised of tin-based and platinum-based silicone. Their experiment will test the performance of the antimicrobial properties of platinum-based silicone, which is commonly used to reduce biofilm formation on Earth, under the microgravity conditions of space. The students hope their experiment will help advance scientists' understanding of how biofilms grow and allow them to identify possible techniques for reducing biofilm formation. Their research could have implications for health care on Earth and in space.
This investigation is part of the Student Spaceflight Experiments Program (SSEP) Mission 11 to ISS America payload of experiments aboard SpaceX CRS-12. SSEP is a program of the National Center for Earth and Space Science Education (NCESSE) in the U.S. and the Arthur C. Clarke Institute for Space Education internationally. It is enabled through a strategic partnership with DreamUp PBC and NanoRacks LLC, which are working with NASA under a Space Act Agreement as part of the utilization of the ISS as a National Laboratory.
In addition to Mannuel and Treadway's experiment, University of Maryland researchers sent three other scientific projects to the ISS, focusing on cosmic ray research and fire protection in space. Additionally, a UMD student-driven experiment to study the genetics of bacterial growth in space returned to Earth from the ISS earlier this summer.
More information about these experiments is available online.
Published August 14, 2017