gel-e Announces $3.1 Million in Private Financing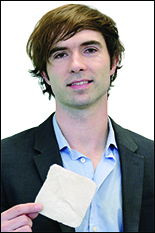 gel-e Inc., a startup company launched by University of Maryland Fischell Department of Bioengineering alumnus Matthew Dowling (Ph.D. '10), announced that it has raised $3.1 million in private financing, led by early-stage investment funds and life science investors.
The announced financing will allow gel-e to expand its initial U.S. Food and Drug Administration (FDA) regulatory clearance for the management of bleeding wounds – including vascular access sites (Vascular gel-e®) – to a broader hemostatic product line for the treatment of external wounds.
"gel-e exemplifies an ideal investment for us," said Jim Hughes, Director, UM Ventures, a joint initiative of the University of Maryland, Baltimore and University of Maryland, College Park to commercialize technologies and expand industry collaboration. "By strategically deploying grants, gel-e has built an impressive corporate foundation, such as achieving its first regulatory clearance, securing an issued patent estate, and recognition through numerous peer-reviewed publications. We are excited to be a part of this financing that supports the next phase in the company's growth."
gel-e specializes in developing a broad range of advanced hemostatic and wound treatment products, including bandages for the treatment of routine cuts and scrapes, foams, putties for traumatic and military injuries, and surgical gels and powders.
"gel-e's objective is to build products that stop bleeding rapidly and reliably in a variety of clinical settings, regardless of the patient's coagulation state," Dowling said. "Even routine bleeding from common lacerations, such as cuts and nicks from shaving, is becoming problematic given the meteoric rise in the use of blood-thinning medications throughout the world."
As a student in UMD Department of Chemical and Biomolecular Engineering (ChBE) professor Srinivasa Raghavan's Complex Fluids and Nanomaterials lab, Dowling co-created a fast-acting, blood-clotting bandage. This patented, life-saving technology is based on modified chitosan, a biopolymer derived from chitin, which is found in the exoskeletons of shrimp, crabs, and other crustaceans. Chitosan is a unique natural material because it is biocompatible, anti-microbial, and highly durable under a wide range of environmental conditions.
When applied to wounds, the bandage quickly creates a three-dimensional nanoscale mesh that coagulates blood and stops hemorrhaging. Despite its effective bonds with tissue, the bandage is gentle enough to be removed from a patient without causing further injury. The pad is designed to be used by surgeons, soldiers, first responders, or even unskilled helpers in locations ranging from the operating room to the battlefield.
In 2015, the FDA cleared gel-e's vascular access hemostat for sale, paving the way for the company to commercialize additional, unique products based on the same technology. Today, gel-e boasts a product line featuring next-generation vascular access hemostats, as well as bandages and flowable gelsto treat nuisance bleeds and chronic wounds.
"gel-e's product line is unique largely because of its versatility," Dowling said. "There's an enormous number of product form factors that can be manufactured in a cost-efficient fashion with this material. Bandages, gels, putties and foams are just the beginning."
Dowling's ties to the University of Maryland run deep. As a student, he participated in the Maryland Technology Enterprise Institute's (Mtech) $50K Business Plan Competition, then joined Mtech's Venture Accelerator program, which guides and coaches inventors through new business processes, such as market research and raising capital. Dowling's company progressed to Mtech's Technology Advancement Program incubator. gel-e was patented with the help of UMD's Office of Technology Commercialization.
Prior to this latest financing, gel-e was funded by grants from the National Science Foundation, the United States Army Research Lab, Maryland Industrial Partnerships (MIPS), the Maryland Technology Development Corporation (TEDCO), and the Maryland Biotechnology Center.
Dowling, now a member of BIOE's advisory board, was recently featured on the BBC television program, Brave New World with Stephen Hawking.
Published August 9, 2017