BIOE Alum Awarded Council of Graduate School Distinguished Dissertation Honorable Mention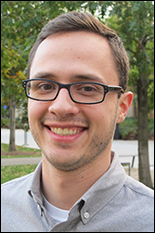 Fischell Department of Bioengineering (BIOE) alumnus Adam Behrens (Ph.D. '15) was awarded an honorable mention in the competition for the 2016 Council on Graduate Schools (CGS) ProQuest Distinguished Dissertation Award in Mathematics, Physical Sciences, and Engineering. Behrens' dissertation, "Polymeric Materials for Hemostatic and Surgical Sealant Applications" was one of the top three from more than 45 dissertations from institutions across the United States and Canada to be recognized by a panel of judges from the graduate dean community with expertise in the STEM fields.
As a graduate student, Behrens worked under the guidance of BIOE Professor Peter Kofinas towards developing a hemostatic (blood-clotting) gel designed to quickly stop hemorrhaging and a low cost alternative or adjuvant to sutures for use in a surgical setting. Behrens had worked with Kofinas since his sophomore year, when he was recruited from the professor's section of ENES100: Introduction to Engineering Design. Since, then, much of Behrens' research has focused on how functional polymer materials can be used by surgeons and first responders to halt bleeding, repair hernias, and perform intestinal anastomosis (the connection of two sections).
Today, Behrens is a postdoctoral associate in the Langer Lab at the Massachusetts Institute of Technology, which focuses on the interface of biotechnology and materials science.
Behrens received his bachelor's degree from the University of Maryland's Department of Chemical and Biomolecular Engineering, for which Kofinas serves as an affiliate professor.
The CGS/ProQuest Distinguished Dissertation Award is designed to honor scholars whose dissertation represents original work that makes an unusually significant contribution to the fields of mathematics, physical sciences, or engineering. The awards committee noted that Behrens' work represented some of the best early-career scholarship in these disciplines.
The Council of Graduate Schools is the national voice for the graduate dean community and the only national organization in the United States dedicated solely to the advancement of graduate education and research.
Published December 12, 2016