Bentley, Payne Featured in The Conversation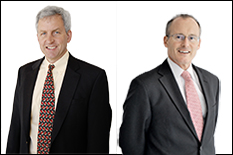 William Bentley, Fischell Department of Bioengineering (BIOE) professor and director of the Robert E. Fischell Institute for Biomedical Devices, discussed the potential for linking microelectronic devices with biological systems today in a piece published by The Conversation.
In the article, "Using electricity, not molecules, to switch cells on and off," Bentley writes:"[Microelectronics] rarely provide access to our biological world; there are technical gaps. We can't simply connect our cellphones to our skin and expect to gain health information."
To tackle this challenge, he and BIOE professor Gregory Payne have led a team of researchers to bridge the communication gap. Their recent research findings, published on Jan. 17 in Nature Communications, detail how they are working to link electrons and biology so that microelectronic devices might one day be used to "autonomously detect and treat disease."
Read the full article, published via The Conversation, online.
Read the full press release announcing Bentley and Payne's Nature Communications paper.
Published January 18, 2017