UMD Key Partner in New National Institute for Innovation of Manufacturing Biopharmaceuticals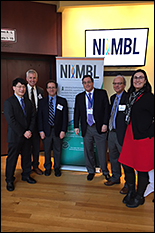 The University of Maryland will be a key partner in a new institute to advance U.S. leadership in pharmaceutical manufacturing that was announced by U.S. Secretary of Commerce Penny Pritzker announced on Friday, December 16, 2016. The National Institute for Innovation of Manufacturing Biopharmaceuticals (NIIMBL) will be the 11th Manufacturing USA Institute, and includes the University of Maryland, College Park and the University of Maryland, Baltimore. A team of more than 150 companies, educational institutions, nonprofits and state governments will operate NIIMBL under a newly formed nonprofit.
"The University System of Maryland is a tremendous asset in preparing our workforce for the jobs of the future and leading groundbreaking research," said Governor Larry Hogan. "This cutting-edge institute will bring together innovators from private industry, higher education, and government to tackle some of the world's most pressing medical challenges, such as treating cancer and Alzheimer's, and will advance the biomanufacturing sector in Maryland and across the nation."
Unlike most pharmaceuticals, which are manufactured through a series of chemical synthesis, biopharmaceuticals are therapeutics made with living cells. Today, biopharmaceuticals are a mainstay for health care, and include therapies such as vaccines, treatments for cancer and autoimmune diseases, and emerging drugs for cell and gene therapies.
"I join in congratulating the University of Maryland and partner universities for their work in securing a National Network for Manufacturing Innovation (NNMI) Center from the National Institute of Standards and Technology (NIST)," said Congressman Steny H. Hoyer (MD-05). "I was proud to join my colleagues in sending a letter supporting this application for a grant to establish the National Institute for Innovation in Manufacturing Biopharmaceuticals. The institute, in which the University of Maryland will play a crucial role, will encourage innovation, train a skilled workforce, and advance biopharmaceutical manufacturing in the United States. Expanding innovation and breaking down barriers to manufacturing here at home are key components of House Democrats' Make It In America agenda, which I am leading in Congress to increase competitiveness and build the next generation of manufacturers. The authorization of NNMI is one of the agenda's key accomplishments. I'm confident the institute will ensure Maryland plays a significant role in advancing biopharmaceutical manufacturing in the years to come."
The institute will focus on bringing safe drugs to market faster and on developing workforce training. The biopharmaceutical field has a negative unemployment rate, with more jobs available than there are qualified workers.
"We frequently tout our world-class universities and their groundbreaking research as we recruit businesses from around the globe to invest and grow jobs in our state," said Maryland Secretary of Commerce Mike Gill. "This new institute reinforces the University System of Maryland's key role in the areas of biopharmaceutical manufacturing and innovation. Maryland Commerce was pleased to provide strong support for the state's proposal for NIIMBL."
Expected total investment from all stakeholders totals $250 million, including $70 million of federal investment.
"University of Maryland Engineering plays a significant role in accelerating biopharmaceutical manufacturing innovation and educating a world-class biopharmaceutical manufacturing workforce," said Darryll J. Pines, Dean at the University of Maryland A. James Clark School of Engineering. "We are proud to be part of this effort to advance U.S. competitiveness in this industry."
The demand for disease-treating biopharmaceuticals, which often succeed where traditional drug treatments have failed, is skyrocketing. But, because biopharmaceuticals are made by living cells, they can be complex to manufacture on a mass scale. Whereas production of chemistry-based drugs involves a set discrete number of steps with results that can be replicated over and over, production of biology-based drugs involves thousands more steps with far more variability.
"I was honored to participate as co-PI and to help marshal a strong Maryland presence within NIIMBL," said University of Maryland Distinguished Professor William E. Bentley, co-PI for the NIIMBL proposal and director of the university's Robert E. Fischell Institute for Biomedical Devices. "I'm particularly excited that this will help forge links between the universities, NIST, and the Food and Drug Administration, all of which serve as vital Maryland institutions with key roles in biopharmaceuticals manufacturing."
Innovations in biopharmaceutical manufacturing will mean more patients have access to the most beneficial therapies. The institute will also help ensure the nation can rapidly scale up manufacturing of these advanced treatments to respond to pandemics and other biological threats, and eliminate drug shortages that can result from quality control issues in manufacturing.
"To develop a delivery system, one must develop a formulation, downstream processing, and advanced characterization of the protein molecules in the product," says Stephen W. Hoag, professor in the University of Maryland School of Pharmacy (UMSOP) Department of Pharmaceutical Sciences. "UMSOP is perfectly positioned to conduct these types of studies through its nanotechnology center, its industrial pharmaceutics lab, and its mass spectrometry center."
The University of Maryland is involved in developing innovative processes and analytical technologies that provide unprecedented connections between the biology in the production system and microelectronics.
The University of Maryland's Institute for Bioscience and Biotechnology Research (IBBR) is a focal point for biotechnology research in the region, being a joint Institute between the University of Maryland College, Park, the University of Maryland, Baltimore, and NIST. IBBR is a unique entity in that it fosters integrated cross-disciplinary team approaches to scientific discovery, translational development and education, creating commercialization relationships and initiatives that serve the expanding economic base of biosciences and technology in the state of Maryland and across the country.
"IBBR adds an important dimension to the NIIMBL team of investigators with its state-of-the-art biomanufacturing facility, capable of Good Manufacturing Practices (GMP) biotherapeutics production," said Thomas R. Fuerst, IBBR Director and Professor. "Through nearly 30 years of collaboration with NIST, IBBR has worked to make Maryland the focal point of bioprocessing and manufacturing research in the United States."
NIIMBL researchers will also work with the University of Maryland Center of Excellence in Regulatory Science and Innovation (M-CERSI), the first federally-supported research center between the U.S. Food and Drug Administration (FDA) and the University of Maryland's two preeminent research campuses. Scores of Maryland companies have biotherapeutics products regulated by the FDA and rely on standards and measurements enabled by NIST.
NIIMBL has also received strong support from Montgomery County, BioHealth Innovation, and many Maryland companies, associations, and community colleges such as Montgomery and Baltimore Community College.
Published December 21, 2016