Clark School Alum Named to Forbes "30 Under 30: Healthcare" List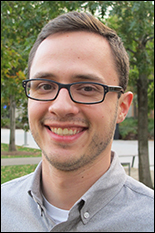 A. James Clark School of Engineering alumnus Adam Behrens (BIOE, Ph.D. '15; ChBE, B.S. '10) was named to Forbes' prestigious "30 Under 30: Healthcare" list for 2017 in recognition of his recent efforts to advance the development of vaccines and diagnostic testing.
"Being selected for Forbes' '30 Under 30' is really an amazing honor," Behrens said. "The recognition equally speaks to the great people that I have worked with and the opportunities they have afforded me."
Throughout his undergraduate and graduate years of study at the Clark School, Behrens worked under the guidance of Fischell Department of Bioengineering Professor and Associate Dean Peter Kofinas towards developing a hemostatic (blood-clotting) gel designed to quickly stop hemorrhaging, and a low-cost alternative – or adjuvant – to sutures for use in a surgical setting. Today, Behrens is a postdoctoral associate at the Massachusetts Institute of Technology's Langer Lab, which focuses on the interface of biotechnology and materials science.
Forbes noted that Behrens is "taking on germs in the developing world with two projects: an effort to make vaccines that don't require refrigeration, and a push to develop diagnostic tests that can detect infectious diseases at patients' bedsides."
Behrens, a Clark School Future Faculty Fellow, was recently awarded an honorable mention in the competition for the 2016 Council on Graduate Schools (CGS) ProQuest Distinguished Dissertation Award in Mathematics, Physical Sciences, and Engineering. Behrens' dissertation, "Polymeric Materials for Hemostatic and Surgical Sealant Applications" placed in the top three from more than 45 dissertations from institutions across the United States and Canada to be recognized by a panel of judgets from the graduate dean community with expertise in the STEM fields.
Behrens received his bachelor's degree from the University of Maryland's Department of Chemical and Biomolecular Engineering, for which Kofinas serves as an affiliate professor; he received his Ph.D. in bioengineering in 2015.
View Behrens' biography on the Forbes 30 Under 30 list.
Published January 3, 2017