Bentley, Payne Receive USM Regents' Awards for Nano-, Biodevice Work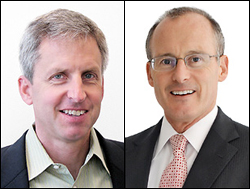 Fischell Department of Bioengineering professors
William E. Bentley
and
Gregory Payne
have received two of the University System of Maryland's 2011 Board of Regents' Faculty Awards for Scholarship, Research, or Creative Activity.
Established in 1995, the awards represent the highest honors given to faculty members throughout the university system. Candidates are reviewed and selected by the Council of University System Faculty and approved by the board in five categories: excellence in teaching; scholarship, research, or creative activities; public service; mentoring; and collaboration. Bentley and Payne will each receive $1000 and a plaque commemorating the honor.
Bentley, the Robert E. Fischell Distinguished Professor and Chair of the Fischell Department of Bioengineering and the director of the Biomolecular and Metabolic Engineering Laboratories, holds joint appointments with the Maryland Technology Enterprise Institute and the Institute for Bioscience and Biotechnology Research (IBBR). His research interests include the modeling of genetic circuits, cellular stress responses and E. coli protein expression, bioreactor design and optimization, and protein expression. His group's work on nanofactories, biological devices engineered to locate specific bacteria and synthesize molecules capable of triggering communication between them, has been widely featured in academia and the news media.
Payne, who also holds a joint appointment with IBBR, studies and applies biofabrication approaches in the construction of devices at the nanoscale, with a specific focus on biofabricating with stimuli-responsive biological polymers and enzymes. His research group's goals include creating the means to interface biology with electronics to produce devices that can diagnose disease at the point of care, detect pathogens at the market, and discover drugs in the lab; and exploring biocompatible approaches for personalized therapy, regenerative medicine, and less-invasive surgery. Payne is an internationally recognized expert on chitosan, a natural bipolymer capable of integrating biological sensing elements into electronic devices.
Bentley and Payne are currently two of the five co-PIs of the Biochip Collaborative, an interdisciplinary effort to "translate" the communication between biological and microfabricated systems to create biofunctionalized devices.
Published March 14, 2011