Seog Research Wins NSF CAREER Award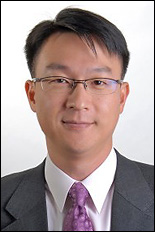 Fischell Department of Bioengineering Assistant Professor Joonil Seog (joint, Materials Science and Engineering) has received a $500,000 National Science Foundation (NSF) Faculty Early Career Development (CAREER) Award for a proposal titled "Direct Observation of Dynamic Self-Assembly at the Single Molecule and Nanoscale Level." The research will be conducted in Seog's
Molecular Mechanics and Self-Assembly Laboratory
.
The project outlined in the Seog's proposal will use a novel technique to study the self-assembly behavior of peptides at the single-molecule and nanoscale levels. Peptides, polymers made out of amino acids and are found in every cell, perform some of the most crucial biochemical and physiological functions required to sustain life.
"Current methods of examining peptides have provided detailed information on their molecular structures, but they are largely limited to a static, averaged view rather than a dynamic one that expresses the rich variations in their behaviors," says Seog.
At the molecular level Seog expects that his methods, which will use a combination of optical mini-tweezers and a novel single molecule construct, will provide fundamental information about the dynamic behaviors of two particular peptides, amyloid beta and tau, which self-assemble into a nanofiber that can be used as a platform to create bioinspired materials. At the nanoscale level, his group will use atomic force microscopy to examine the growth of the nanofibers, the optimal conditions to control their growth, and the effects of nanomechanical forces on their assembly.
The implications of the work extend beyond Seog's lab. "The experimental approaches we've developed are general and can be readily extended to answer questions about other self-assembling molecular systems," he says.
Seog's award will also support several educational objectives inspired by his research, including the development of new and existing biomaterials and nanomechanics courses at the undergraduate and graduate levels, as well as undergraduate research opportunities in his lab. He also plans to continue developing nanotechnology and microscopy lab for visually impaired high school students.
The NSF CAREER program supports the career development of outstanding junior faculty who most effectively integrate research and education within the goals and missions of their programs, departments, and schools. Seog is the third assistant professor since the department's launch in July 2006 to receive a CAREER Award, preceded by Adam Hsieh in 2009 and Helim Aranda-Espinoza in 2007.
For More Information:
Visit the NSF CAREER Award web site »
Visit Professor Seog's web site »
"Seog Lab Installs Optical Mini-Tweezers" »
"Karcz Takes 2nd In Dean's M.S. Thesis Competition" »
Published January 18, 2011