Biocomputational Engineering Highlighted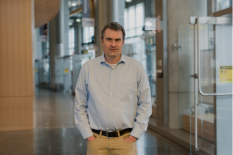 After gaining approval from the Board of Regents education committee last Friday, a new major in biocomputational engineering is set to roll out next fall.
The University of Maryland will become one of the first universities to offer such a degree — which combines the fundamentals of bioengineering, including biology, physics and chemistry, with a foundation in data science.
An increased interest from companies looking for bioengineering students with computer science backgrounds prompted the major's development, said Ian White, the associate chair and director of undergraduate studies for this university's bioengineering department. The program will aim to prepare students for a field that relies on data science more than ever before, he said.
"A lot of our graduates and senior students over the last few years have been pushing for more opportunities to study data science and computation alongside bioengineering," White said. "Data science has really emerged and woven its way into all fields."
Knowledge of computer programming helps students to analyze biological data sets and create new diagnostic technologies for the treatment and prevention of disease, according to the proposal for the major.
This process, known as biological modeling, allows scientists to analyze past studies on the body's response to certain medical treatments and create a coding program that simulates the results of that study. It can lead, for instance, to new methods for the repair or construction of tissue and organs or new treatments for specific diseases.
The major was spurred in part by the development of new engineering facilities at the Universities at Shady Grove in Rockville, White said.
It is mainly geared toward Shady Grove students from Montgomery College and other community colleges, who will be able to transfer into upper-level courses taught by University of Maryland instructors.
"Montgomery County, where a lot of the employers we target [are], they're really invested in seeing these community college students have a good pathway towards a career," White said.
Students at this university will also be able to complete a four-year degree in the program.
Combining data science and bioengineering into one major is a recent development for higher education, not seen 10 years ago, White said. Recently, more colleges and universities have joined this trend, though only a handful offer programs similar to this major.
Bill Churma, the associate director of academic and student affairs for the bioengineering department, said he and White looked into Stanford University's biomedical computation degree while creating the new major.
"I wouldn't be surprised if we see more programs going in this direction, just because of the way so much research is happening," Churma said.
Enrollment is expected to start at around 20 students in the first year, and expand to a steady enrollment of about 80 students once the major gains more traction.
The first classes won't be offered for another year and a half, and in the meantime, the bioengineering department will conduct a marketing campaign to bring in student interest. Much of that will require reaching out to community college students and creating an academic path with them, Churma said.
It will also include strategies to make biocomputational engineering more "digestible" for students unsure of what this obscure field entails, he said.
Julia Zhiteneva, a sophomore bioengineering major, was first drawn to her major because of its diverse career options. Expanding the bioengineering skill set to encompass data science, she said, would only increase those opportunities.
"Those are really valuable skills, and I'm glad that Maryland is taking initiative to cater to the needs in this industry and make that a whole separate major," Zhiteneva said.
This article was written by Chloe Goldberg and originally published in The Diamondback on March 13, 2020.
Published March 13, 2020