BioE Hosts 26th Southern Biomedical Engineering Conference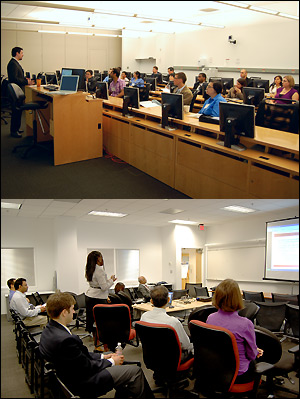 The Clark School's Fischell Department of Bioengineering (BioE) was proud to host the 26th Southern Biomedical Engineering Conference (SBEC 26) April 30—May 2, 2010. The event invited representatives from academia, industry, government research laboratories and clinical settings to learn about the latest developments in the theory and application of biomedical engineering.
Sessions covered a broad range of topics, including traumatic brain injury, auditory science, bioengineering and biomedical engineering education, nanotechnology, biomaterials, sickle cell research, cancer, imaging, biomechanics, drug delivery, kinematics, modeling, tissue and cellular engineering, and neural systems. The National Cancer Institute sponsored a special session on "Technologies For Cancer Diagnostics." Conference guests were able to choose from almost 170 presentations and interact with students at a poster exhibition.
SBEC 26's keynote speakers were:
John W. Karanian, Ph.D., United States Food and Drug Administration, Center for Devices and Radiological Health, who spoke on "Medical Imaging and Analytical Tools in Bioengineering Research";
Stefanie Jeffrey, MD, Stanford University School of Medicine, who spoke on "Circulating Tumor Cells (CTC): Emerging Technologies for cancer Detection, Diagnosis & Prognosis"; and
John Jessup, Ph.D., National Cancer Institute, National Institutes of Health, who spoke on "The Need for Fresh Bioengineering Approaches to Cancer Diagnostics."
SBEC 26 was co-chaired by BioE Professor and Chair William Bentley, Associate Professor Keith Herold, and Adjunct Professor Jafar Vossoughi, the original founder of the event. It was sponsored by the International Federation for Medical and Biological Engineering (IFMBE), the Biomedical Engineering Society (BMES), the National Cancer Institute, the National Science Foundation (NSF), and Springer.
For More Information:
Visit the 26th Southern Biomedical Engineering Conference web site »
Published May 5, 2010