Brody Shares Entrepreneurial "Recipe"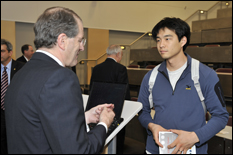 Johns Hopkins University President
William Brody
gave the first
Whiting-Turner Business & Entrepreneurial Lecture
of the Spring 2008 semester on April 10 as part of the
2nd Annual Fischell Festival of Bioengineering
.
Dr. Brody's "Top 10 Tips" included:
1) Entrepreneurs should know their exit strategy before starting a business.
2) Time is money.
3) Avoid having to build a sales force.
4) You need some kind of barrier to entry.
5) A product's superiority must be clearly evident.
6) It's better to be in a new rapidly evolving market with no established competitors.
7) Avoid Inventor's Paranoia.
8) Understand Sutton's Law of Start-ups.
9) Avoid conflict of commitment.
10) Be lucky.
Dr. Brody also noted that it is necessary to make mistakes in order to gain wisdom. He talked about his good and bad experiences starting three different companies – Digirad, Resonex, Inc., and Biopsys Medical.
Dr. Brody's lecture and slides can be viewed online.
Fred Schaufeld, founder and chairman of NEW Customer Services Companies, Inc., will give the final Whiting-Turner lecture of the spring semester on April 17 at 5 p.m. in the Kim Engineering Building lecture hall.
Published April 11, 2008