Cano-Mejia Named Society for Thermal Medicine New Investigator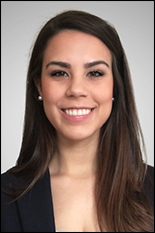 Fischell Department of Bioengineering graduate student Juliana Cano-Mejia was named the recipient of a Society for Thermal Medicine New Investigator award in recognition of her efforts to develop a novel therapy for neuroblastoma, a hard-to-treat pediatric cancer.
Cano-Mejia, a member of BIOE affiliate professor and alumnus Rohan Fernandes' (Ph.D. '08) lab at Children's National Medical Center, is working with a team of researchers on a photothermal therapy (PTT) technique that uses an ancient dye known as Prussian blue nanoparticles (PBNPs) and anti-CTLA-4, an antibody that works to enhance anti-tumor immunity.
Using near-infrared (NIR) light-absorbing nanoparticles and a low-power NIR laser, PTT functions as a rapid and minimally invasive method for reducing tumor burden. Additionally, anti-CTLA-4 functions as an immune checkpoint inhibitor, a type of drug that blocks certain proteins made by some types of immune system cells, including T cells and some cancer cells. According to the National Institutes of Health National Cancer Institute, these proteins help keep immune responses in check and can keep T cells from killing cancer cells. When these proteins are blocked, the "brakes" on the immune system are released and T cells become well-equipped to kill cancer cells.
"We hypothesize that our combination therapy can successfully treat primary tumors as well as prime a robust antitumor immune response that can eradicate residual disease and confer immunity against recurrent tumors," Cano-Mejia said.
She and fellow researchers tested their hypothesis; in cases where long-term surviving mice were treated with PTT using only intratumorally-administered PBNPs, the research team saw a rapid reduction of tumor burden and growth rate, but the response proved incomplete and tumors recurred. However, in cases where mice were treated with PBNPs combined with anti-CTLA-4-based PTT, 55 percent of the neuroblastoma-bearing mice survived 100 days or more. Even more, mice that survived long-term exhibited protection against neuroblastoma tumor re-challenges, which points to the development of immunity against these tumors.
"Photothermal immunotherapy using Prussian blue nanoparticles and anti-CTLA-4 resulted in significantly higher tumor regression and long-term survival compared to controls," Cano-Mejia said. "Additionally, combination therapy-treated mice exhibited protection against the tumor re-challenge relative to naïve, untreated mice, indicating the acquisition of immunity against the tumors in these mice. Taken together, the results demonstrate the potential of our novel combination therapy for treating patients with high-risk neuroblastoma."
"Juliana's study is a prime example of a 'nanoimmunotherapy' that leverages advances in the fields of nanotechnology and immunotherapy to treat diseases, in this case neuroblastoma," Fernandes said. "The ability to mix-and-match seemingly disparate 'nano' and 'immune' elements in an ensemble nanoimmunotherapy has immense implications for developing personalized therapies for diseases including cancer, autoimmune, and infectious diseases. I am optimistic that these findings will provide the impetus to translate this novel therapy to the clinic."
The Society for Thermal Medicine New Investigator award is funded in part by the Jayne Koskinas Ted Giovanis Foundation for Health and Policy. This year, 15 new investigators were named, and each received a $500 travel grant and gratis registration for this year's Society for Thermal Medicine annual meeting. More information is available online.
Published June 29, 2017