Chumakov Presents at UHMWPE Conference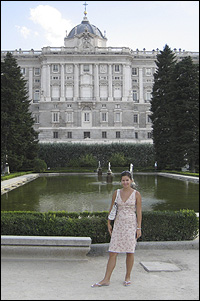 Graduate Program in Bioengineering student Marina Chumakov was selected to present her work at the 3rd Ultra High Molecular Weight Polyethylene (UHMWPE) International Meeting in Madrid, Spain. The theme of this year's conference was "Polyethylene in total joint replacement systems: concerns and solutions." Her talk, "On the Novel Use of Nitroxides and alpha-Tocopherol as Radiolytically-Produced Free Radical Scavengers in UHMWPE," was co-authored with her advisor, Materials Science and Engineering professor Mohamad Al-Sheikhly. Chumakov was invited to speak at the highly specialized conference after submitting an abstract on her work for review.
UHMWPE has been used in industry and medicine since the 1960s. One of its notable applications is as a bearing material for the metal components of the ball and socket of a total hip replacement that prevents metal-to-metal contact, preventing wear and extending the life of the artificial joint. It is also widely used in knees and is the only material that can be used as an articulating bearing in total knee replacements.
Processing medical-grade UHMWPE involves a delicate balancing act: gamma radiation is used to both sterilize and crosslink the polymer chain, improving its mechanical properties, but also makes it susceptible to polymer oxidative degradation, which is the result of oxygen reacting with ionizing radiation products. Preventing oxidation in artificial joints is crucial, as debris from wear in total joint replacements causes a condition called peri-prosthetic osteolysis, an inflammation of the bone and muscle surrounding the implant that results in the need for its replacement. Traditionally, annealing was used in a second phase of processing to prevent oxidation, but had the side-effect of making UHMWPE less wear-resistant.
Further research showed that introducing vitamin E into the UHMWPE would help reduce oxidation without weakening it, but Chumakov and Al-Sheikhly are proposing a new approach. Instead of using vitamin E to prevent oxidation, they are exploring using nitroxides, nitrogen-containing compounds with five or six-member rings. Chumakov explains that they chose nitroxides because they are very stable and have demonstrated anti-oxidative qualities in reactions in cells in other types of research. The hope is that nitroxide can stop or minimize polymer oxidative degradation. Currently, Chumakov and Al-Sheikhly are performing various tests with nitroxides to determine how they react under different conditions. Later research would involve joint simulation experiments that simulate movement and aging.
Chumakov was enthusiastic about the opportunity to present her and Al-Sheikhly's ideas to a group of international experts. "The conference went very well and my presentation was quite well received," she tells us. "It was very exciting to meet the investigators whose research I have been following and reading over the past two years. I received a lot of encouragement that my research was on the right track and some were very pleased to see some new approaches."
Published September 21, 2007