Fisher Named Reviews Co-Editor for Expanding Journal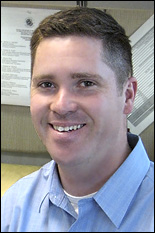 Fischell Department of Bioengineering Assistant Professor John Fisher has been named co-editor for the newly-launched
Tissue Engineering, Part B
journal. The appointment is the result of the rapid expansion of the publication, including the creation of
Part B: Reviews,
and
Part C: Methods.
Fisher has served as the Reviews Editor for the original
Tissue Engineering
since November 2006. "This new appointment is a very positive reflection of his standing in the field," said department Professor and Chair William Bentley.
According to publisher Mary Ann Liebert, Inc., the expansion will allow the flagship journal (now Part A) to continue its focus on hypothesis-driven scientific reports, while bringing reviews and methods-oriented papers to readers on a larger scale. According to the journal's web site, "Tissue Engineering Reviews meets the urgent need for high-quality review papers due to the rapid expansion of the field. The Journal presents critical discussions and analyses and concise summaries of research in different aspects of the field to assess where we are now and future directions."
In the past year, Fisher has been active in editing collections in the field, including Advances in Experimental Medicine and Biology, Vol. 585: Tissue Engineering (Springer, 2006); and the tissue engineering section of The Biomedical Engineering Handbook, 3rd edition (CRC, 2006).
Published September 5, 2007