Fisher Named Director of Undergraduate Program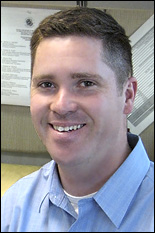 The Fischell Department of Bioengineering (BioE) extends its congratulations to Associate Professor John Fisher, who has been appointed the department's new Associate Chair and Director of Undergraduate Studies effective August 24, 2009. Fisher assumes the role from Professor Adel Shirmohammadi, who accepted an appointment as the Associate Dean for Research in the College of Agriculture and Natural Resources Engineering earlier this month (
see related story)
.
Fisher, a preeminent researcher in biomaterials and tissue engineering, joined the University of Maryland as an assistant professor in the Department of Chemical and Biomolecular Engineering in 2003. In 2006 he joined the newly-formed Fischell Department of Bioengineering, and was promoted to associate professor in 2008. For several years, he has taught Tissue Engineering and Modeling Physiological Systems courses for graduate and undergraduate engineering students.
Fisher has already established himself as an advocate for enhancing the undergraduate experience by promoting excellence in teaching and research, beginning with his service on the formative committee of the B.S. program in bioengineering. His undergraduate researchers have won a variety of grants and awards, including the American Institute of Chemical Engineers Student Paper Competition (Emily Levi), a University of Maryland Honors Research Grant (Vikash Gupta), Howard Hughes Medical Institute Research Fellowships (Vikash Gupta and Sasha Knowlton), University of Maryland College Park Undergraduate Researcher of the Year (Andrew Thompson), and the Golden Key Scholarship (John Lin).
Fisher is also the PI of the department's highly competitive, National Science Foundation-sponsored Research Experience for Undergraduates Program on Molecular and Cellular Bioengineering, which sponsors research opportunities each summer for undergraduates from all over the U.S.
For More Information:
Visit the Tissue Engineering and Biomaterials Laboratory web site »
Learn about the Molecular and Cellular Bioengineering Research Experiences for Undergraduates (REU) Program »
Published August 25, 2009