Shirmohammadi Named Associate Dean of Ag School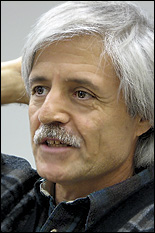 The Fischell Department of Bioengineering (BioE) extends its congratulations to Professor Adel Shirmohammadi, who was recently appointed the College of Agriculture and Natural Resources' (AGNR) Associate Dean for Research and Associate Director of the Maryland Agricultural Experiment Station (MAES). Associate Professor John Fisher will assume Shirmohammadi's role as the Director of the Undergraduate Program in Bioengineering (
see related story
).
"This is a tremendous recognition and promotion," said BioE Professor and Chair William Bentley. "We're really going to miss Adel, particularly as our students' champion in his role as our Associate Chair and director of our undergraduate program. The department has benefited tremendously from his hard work since its establishment and from his leadership during our ABET accreditation process."
In his new role, Shirmohammadi will administer AGNR's research programs from the MAES, the anchor of the college's research activities, comprised of over 100 faculty members on campus and in several centers throughout the state. He will coordinate and promote departmental and multidisciplinary research programs, work to secure grants and funding, and support extension and academic units.
"I had a lot of thinking to do when I decided to apply for this position, because it meant leaving a great department and wonderful colleagues," Shirmohammadi commented. "My fellow bioengineering faculty and the bioengineering staff have been wonderful to me and have made my job as the Associate Chair and Director of the Undergraduate Program successful! Our BioE students will be in my heart and I wish them all the best in their academic and professional careers."
Shirmohammadi joined the University of Maryland's Department of Agricultural Engineering in 1986, later transitioning to the Department of Biological Resources Engineering (administered jointly by the Clark School of Engineering and the College of Agriculture), and then to the Clark School with the launch of the Fischell Department of Bioengineering in 2006. His return to ANGR brings him full circle.
Shirmohammadi has taught undergraduate and graduate courses on water resources engineering, flow through porous media, numerical methods, and senior capstone design. Awards for his work in the classroom include the Certificate of Teaching Excellence from the Center of Teaching Excellence and the Department of Biological Resources Engineering's Outstanding Departmental Teaching Award.
He is the longtime director of the Soil & Water Engineering and Water Quality Laboratories, where he studies bioenvironmental and water resources engineering, water quality and transport modeling, and nonpoint source pollution assessment using an integrated watershed approach. His research has been extensively published and presented around the world (including almost 300 papers and a book), and has secured approximately $5 million in competitive and cooperative funding. Shirmohammadi has also received several national recognitions for his research, teaching and service through the American Society of Agricultural and Biological Engineers (ASABE), including its Hancor Soil and Water Engineering Award, Soil and Water Division Leadership Award, and the ASABE Presidential Citation Award for professional service. He was inducted into the grade of Fellow in the ASABE in 2005.
Prior to assuming the role of Director of the Undergraduate Program of the Fischell Department of Bioengineering in September 2006, Shirmohammadi spent over 18 years coordinating the advising of the Undergraduate Program in Biological Resources Engineering (BRE), which transitioned into the Undergraduate Program in Bioengineering in July 2006. A dedicated student advisor, he was recognized as a finalist for the 2002 Outstanding Advisor of the Year Award by the University of Maryland's Parent Association; was awarded the 2003-2004 Faculty Academic Advisor of the Year Award by the Provost's Commission on Academic Advising; and was honored by the Philip Merrill Presidential Scholar Program for his work as a faculty mentor. Shirmohammadi has also been involved in a variety of community and outreach efforts, including serving as a judge at science fairs at schools and county fairs, and mentoring high school students.
Published August 25, 2009