Johnson Announces Retirement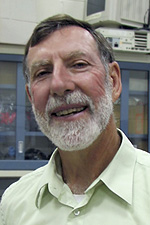 Although Fischell Department of Bioengineering professor Art Johnson has announced his retirement after 34 years at the University of Maryland, faculty, staff, students and alumni don't have to worry about missing their chance to say goodbye. With so much left he still wants to accomplish, the university community can expect to see him on campus as a Professor Emeritus for some time to come!
"Goodbye, and thank you," he joked shortly after the announcement this summer, "…see you Thursday."
Although officially retired as of July 1, Johnson can still be found working in the Human Performance Laboratory, and is scheduled to teach an electronic design course this fall. "There are still too many things to do," he tells us. "There are students that I need to help turn into engineers, service to the University I want to perform, and my Biology for Engineers textbook will be coming out next February."
Seeing his most important research through also figures prominently in his decision to stay active on campus. Johnson has been working steadily on the development of his Airflow Perturbation Device (APD), a noninvasive tool that can be used to measure respiratory resistance in children, animals, and people who find other measuring devices difficult to work with. It can also be used to help diagnose respiratory problems. "The APD will soon be made available [to patients]," he says. "It looks like it will be able to help people with vocal cord dysfunction, asthma, and other conditions. That's very exciting!"
Reflecting on how he decided to spend his retirement—at least for now—Johnson makes the choice seem easy. "A few years ago I asked myself if there was anything I would rather be doing with my life," he explains. "I told myself that if so, I'd better start doing it because life is too short not to do what makes me happy. But I couldn't think of anything else I'd rather be doing. As long as life around here is exciting, I'm staying!"
After receiving his B.A.E. (1964), M.S. (1967), and Ph.D. (1969)–all in agricultural engineering–from Cornell University, Johnson joined the U.S. Army and served as an officer in Vietnam, attaining the rank of captain. During and after his service, he worked with other Army engineers to quantify and alleviate the respiratory and thermal stress experienced by soldiers wearing protective equipment. He joined the faculty of the Department of Agricultural Engineering in 1975, and became a full professor in 1986.
An expert in the fields of transport processes and respiratory devices, safety, stress and measurement, he has published 129 refereed papers and is the author of 25 book chapters and three books. His research on human performance, biomechanics, respiratory mechanics and measurement ergonomics and exercise physiology has amassed 31 projects valued at almost $4 million. 
Johnson is a dedicated instructor who has diligently striven to educate undergraduate and graduate students in biology, transport processes, electronics and engineering design. He has taught 20 distinct courses across multiple U-Md. departments and colleges, written numerous essays on the teaching of biological- and bioengineering, and has been a tireless advocate for the development of their curricula. His third, forthcoming book, Biology for Engineers, is the first textbook designed to teach biology specifically to engineering students interested in biological, biomedical, medical, and other health-related careers.
Johnson has also been an anchor in many professional societies. He was a Founding Fellow of the American Institute for Medical and Biological Engineering, and served as its Executive Director in 2004. He has been the president of the Alliance for Engineering in Medicine and Biology, the Institute for Biological Engineering, and the International Society for Respiratory Protection; as well as the Secretary of the Biomedical Engineering Society. He has also served on the Board of Directors of the American Society for Agricultural and Biological Engineers. Johnson is Fellow of the American Institute for Medical and Biological Engineering, the American Society for Engineering Education, the American Society for Agricultural and Biological Engineers, the American Industrial Hygiene Association, the Biomedical Engineering Society, and the Institute for Biological Engineering. He has been cited for his leadership and service on numerous occasions, most recently with the Institute of Biological Engineering's Brahm and Sudha Verma Lifetime Visionary Award.
When not in the classroom or the lab, Johnson operates a 42 acre farm specializing in organic fruit production.
For More Information:
Visit Professor Johnson's web site »
Published August 25, 2009