Johnson Honored By IBE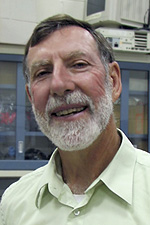 Fischell Department of Bioengineering professor Art Johnson has received the Brahm and Sudha Verma Lifetime Visionary Award from the Institute of Biological Engineering (IBE). The IBE is a professional organization that promotes research and interest in biological engineering, education, professional standards, interaction between academia, industry and government, public awareness, and responsible use of biologically engineered products.
The citation on the award, presented by IBE president Christina Smolke, states that "Before biological engineering was popular, [Johnson] worked to make people notice; when biological engineering needed to be explained, he wrote about its philosophical foundations; when biological engineering needed a home, he helped establish organizations where it would feel comfortable; when biological engineering was overlooked, he stubbornly reminded others of its importance; when biological engineering needed an educational base, he created a curriculum; and when biological engineering needed flesh, he wrote original textbooks about the field. No one has worked more assiduously on behalf of the biological engineering vision."
To learn more about Professor Johnson, and to read selections from his essays and books, visit his web site »
Visit the Institute of Biological Engineering web site »
Published March 21, 2008