Fisher Receives Engalitcheff Research Funding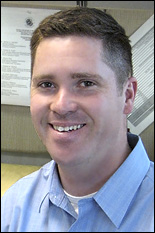 The third year of Fischell Department of Bioengineering associate professor John Fisher's Arthritis Investigator Award will be funded by the Engalitcheff Research Fund. Administered by the Arthritis Foundation, awards from the fund are given annually as a distinction to outstanding scientists in honor of Virginia P. Engalitcheff, long-time supporter of the Foundation.
"The quality of your research as well as your commitment and cooperation are appreciated by the Arthritis Foundation," John A. Hardin, M.D., Chief Scientific Officer of the organization wrote Fisher in a recent letter, "We look forward to a long and productive association."
As the average age in both the United States and western Europe rapidly increases, osteoarthritis, the degradation of joint cartilage, has become more prevalent. Fisher's research group proposes to treat the disease and other degenerative articular cartilage conditions by stimulating cartilage regeneration using cell transplantation.
Healthy cartilage-forming cells would be taken from the patient, inserted into a synthetic biomaterial, and then transplanted into the diseased joint site. Over time, the biomaterial, which acts as a supportive environment for the cells, would slowly and harmlessly degrade while the transplanted cells synthesize new cartilage, eventually leaving only regenerated cartilage tissue in its place.
"Similar approaches have been proposed by many investigators," Fisher explains, "but we feel the key factor that must be considered for successful transplantation of cells is the effect of the synthetic biomaterial on the ability of the cells to communicate with one another."
This communication is crucial. Without it, the transplanted cells won't be prompted to produce new cartilage tissue.
While this communication, called cell signaling, has been widely investigated, little is known about how cells communicate with one another when they exist within a synthetic material. Fisher and his research group hypothesize that messages from signaling cells to receiving cells in a synthetic environment will differ from those living in normal tissue.
This stage of Fisher's arthritis research will focus on understanding these differences in order to design biomaterials that will ensure proper cell signaling and successful regrowth of tissue.
Fisher is excited about the prospects. "The successful completion of the proposed work will be a new approach for the development of cartilage tissue, not just for osteoarthritis but other tissues as well."
For More Information:
Visit the Tissue Engineering & Biomaterials Laboratory web site »
Published November 15, 2008