Fisher Promoted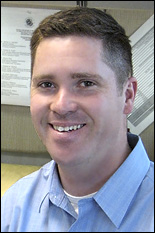 The Fischell Department of Bioengineering would like to extend its congratulations to Assistant Professor John Fisher, who has been promoted to Associate Professor with tenure effective August 23.
Fisher received his Ph.D. from Rice University in 2003. As the director of the Tissue Engineering and Biomaterials Laboratory, his research includes the use of biomaterials for the delivery of therapeutics scaffolds for orthopaedic tissue engineering applications, the interaction of biomaterials and tissues, and the synthesis of novel hydrolytically degradable, implantable polymers. He is the current editor or has edited a variety of journals and books on tissue engineering, including Tissue Engineering Part B, Reviews, and also directs the Department's Molecular and Cellular Bioengineering Research Experiences for Undergraduates (REU) Program.
In a relatively short time, Fisher has been widely recognized for his research. In 2005 he was the recipient of a NSF CAREER Award. In 2006, he received the Arthritis Foundation's Arthritis Investigator Award, and he and his students won the university's Office of Technology Commercialization Invention of the Year Award (Life Sciences category) for biomaterials for tissue engineering that avoid premature degradation. In 2007 he received Rice University's Department of Bioengineering's Outstanding Graduate Alumnus Award, as well as the only Maryland Stem Cell Research Fund grant for research on the College Park campus for his work on regenerating human facial bone.
Published May 8, 2008