Fisher Promoted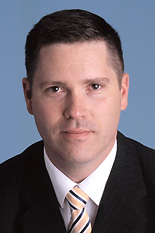 The Fischell Department of Bioengineering (BioE) and the A. James Clark School of Engineering extend their congratulations to John Fisher, who has been promoted to the rank of Professor, effective July 1. Fisher, who received his Ph.D. from Rice University in 2003, currently serves as one of the department's two Associate Chairs and as its Director of Undergraduate Studies.
"John consistently strives to reach a high level of excellence in all aspects of our work as members of the faculty: scholarship, education, and service," says BioE professor and chair William E. Bentley. "It's been his guiding philosophy. It's served him well, and it's had a positive impact on our department. It's very satisfying to see him recognized for his hard work on all fronts and for his tireless commitment to excellence."
Fisher, the director of the Tissue Engineering and Biomaterials Laboratory, has been widely recognized for his potentially life-changing research in tissue, cartilage and bone regeneration, which has applications ranging from craniofacial reconstructive surgery to new treatments for joint injuries and arthritis. His research focuses on the development of novel, implantable, biocompatible materials that can support the development of both adult progenitor and adult stem cells, and particularly examines how biomaterials affect endogenous molecular signaling among embedded cell populations.
In 2005, Fisher received a National Science Foundation CAREER Award for his study of the control of cell-to-cell signaling within engineered tissues.
In 2006, he received the University of Maryland's Invention of the Year Award (Life Sciences category) for his development of implantable biomaterials that avoid premature degradation, and the Arthritis Foundation's Arthritis Investigator Award. He received the Foundation's Engalitcheff Research Award the following year in honor of his outstanding work on the interaction between cartilage cells and biocompatible materials used to support their growth.
In 2007 he was awarded the College Park campus' first Maryland Stem Cell Research Fund grant for his work on regenerating human facial bone.
Fisher took first place in University of Maryland's Professor Venture Fair Competition in 2009 for his design of a patent-pending bioreactor that grows bone and other types of tissue for implantation. The system, which is made from affordable, off-the-shelf components, increases the amount of nutrients the cells inside receive, resulting in a more prolific culture. In 2011, he received a $1.35 million National Institutes of Health R01 grant from the National Institute of Arthritis and Musculoskeletal and Skin Diseases to further the development of the device and expand other tissue engineering techniques used in conjunction with it. The project will include the incorporation of pre-vascular networks with bone cells and the development of a rigid outer scaffold, created using stereolithography, to house the tissue culture on implantation into large and load-bearing bones.
In 2012, Fisher was elected Fellow of the American Institute for Medical and Biological Engineering. His other professional activities include serving as the founding Editor-in-Chief of Tissue Engineering Part B, Reviews and contributing to and editing two comprehensive books on tissue engineering.
In his role as the department's Director of Undergraduate Studies, Fisher has been instrumental in shaping the undergraduate experience in the Fischell Department of Bioengineering. He developed the department's required physiology course and a popular tissue engineering elective, and led the department's ABET reaccreditation process. He has mentored many undergraduate researchers in his own lab, including two who were named University of Maryland Outstanding Undergraduate Researchers, four who have received Howard Hughes Medical Institute Undergraduate Research Fellowships, and eighteen supported by Maryland Technology Enterprise Institute ASPIRE Awards.
Since 2007, Fisher has also directed the department's highly competitive Molecular and Cellular Bioengineering Research Experiences for Undergraduates (REU) program, administered in collaboration with the U.S. Food and Drug Administration.
In 2011, he was recognized for the efforts and accomplishments as an educator with the Fischell Department of Bioengineering Teaching Excellence Award.
Published May 30, 2012