Celebrating 14 Participants of 2021 BIOE REU Program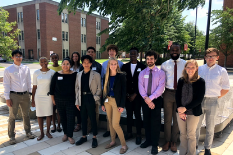 The Fischell Department of Bioengineering (BIOE) celebrated the conclusion of its 2021 Research Experience for Undergraduates (REU) program on Thursday, August 12. REU programs are designed to provide undergraduate students with hands-on laboratory experience and are supported by the National Science Foundation.
The BIOE REU program spans 10 weeks each summer, and provides participants from across the country with room and board in College Park and a $5,000 stipend.
The program aims to provide a diverse group of students with opportunities to apply their knowledge of regulatory science while analyzing the clinical and commercial implications of their research projects. The program also prepares students for success in graduate school by improving their research aptitude, laboratory skills, and communication skills.
Featured research projects promote collaborations between the University of Maryland and the U.S. Food and Drug Administration (FDA), making the BIOE REU program unlike any other in the country. At the end of the summer, BIOE REU students take part in the FDA's annual research fair, where they have the opportunity to present their work to other undergraduate researchers as well as FDA technical staff, non-FDA scientists, and even the FDA Commissioner.
This year, 14 participants presented their research and celebrated the conclusion of the REU program in A. James Clark Hall.
Five students received awards for their research presentations:
3rd Place: Phuc Nguyen, "Modular Compression Bioreactor for Patient-Specific Craniofacial Bone Tissue Engineering"
More information about the Fischell Department of Bioengineering's REU program is
available online
.
Published August 13, 2021