Jason Chen Granted Huskamp Endowed Bioengineering Scholarship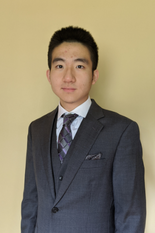 The Fischell Department of Bioengineering (BIOE) recently named junior Jason Chen the recipient of the 2021-2022 Jeffrey C. and Sandra W. Huskamp Bioengineering Scholarship.
Dr. Jeff Huskamp, the former Vice President and Chief Information Officer at the University of Maryland and Sandra Huskamp, the former Director of Operations for Bioengineering established this scholarship for BIOE undergraduates.
Chen is an undergraduate researcher in BIOE Assistant Professor Jenna Mueller's Global Biomedical Devices Laboratory, which focuses on developing safe, affordable, feasible diagnostic and therapeutic technologies to improve the management of cervical cancer and other cancers in the United States and low-and middle-income countries. "I'm working on a laparoscope project," says Chen. A laparoscope is a fiber-optic instrument inserted through the abdominal wall to view the organs in the abdomen or permit small-scale surgery. "My role is to assist in designing and developing a portable optical table that will enable others to test the device without all the expensive equipment," he explains.
"My favorite part about being a bioengineering student at UMD is the people and culture," says Chen. "There is a close-knit community of bioengineering students who help push each other to succeed and have a great time. I'm very proud and grateful to be an engineering student at UMD."
The BIOE junior first fell in love with studying organisms and how their bodies work in an AP Biology class at Towson High School. "The surprising amount of information that we don't know about the world around us is most intriguing to me," says Chen. "I owe a lot to my eccentric and knowledgeable biology teacher Ms. Drake, who was just the cherry on top of this fun class."
"Even though math makes me dizzy sometimes, I still enjoy and value the STEM field and all the wonders it has given us," he says. A knack for problem-solving and overcoming challenges combined with a love of biology drew Chen to the Bioengineering program at UMD.
Outside of Clark Hall, Chen spends time volunteering at local soup kitchen Shepherd's Table, going for runs, watching horror movies, and cheering on the Baltimore Ravens.
After completing his B.S. in Bioengineering, Chen hopes to attend graduate school. He has entrepreneurial aspirations too. "I would love to start a company and compete with big pharma," he says. "My pipe dream is to get my name on a building on campus."
Published September 28, 2021