2021 Fischell Department of Bioengineering Undergraduate Awards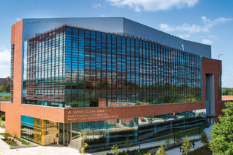 The Fischell Department of Bioengineering (BIOE) applauds the six recipients of its annual departmental awards.
Sabrina de Nicola and Asma Farooqui were awarded the BIOE Outstanding Leadership Award in recognition of their service to others.These awardees are co-Presidents of the University of Maryland's chapter of Engineering World Health, which focuses on innovating and improving accessibility of medical devices in low income communities, and providing students with experience in device repair.
Sabrina de Nicola is a BIOE junior with a minor in sustainability. She is a member of the Bioengineering Honors Program, where she is working towards completing a research thesis on bioaugmentation techniques to combat stormwater pollution. De Nicola received the Gilman International Scholarship to study abroad at the Universidad Pontificia Comillas in Madrid, Spain. She has also been honored with the A. James Clark School of Engineering International Leader Award and is a President's Scholar at the University of Maryland. She is also a peer mentor for the Society of Women Engineers. After completing her undergraduate degree, de Nicola plans to pursue a Ph.D. in environmental engineering.
Farooqui has served her peers as a Women in Engineering Student Advisory Board member and undergraduate researcher in BIOE Assistant Professor Jenna Mueller's Global Biomedical Devices Laboratory. She is a BIOE senior, a graduate of the Global Fellows and Flexus programs, and a member of Alpha Omega Epsilon. Farooqui plans to pursue a master's degree in biomedical engineering and global health.
Tara Harper was awarded the BIOE Outstanding Junior Award, which recognizes outstanding academic achievement and contributions to the department. She is a teaching assistant for thermodynamics and differential equations, serves as an academic tutor, and has a 3.92 GPA. She is co-president of the UMD Women's Club Softball team and looks forward to continuing her education at the University of Maryland.
Senior Yutong (Tommy) Liang was awarded the Outstanding Research Award, in recognition of significant contributions to research, the department, and the bioengineering field. Liang has contributed to metastatic cancer research in BIOE Professor Shawn He's MultiScale Biomaterials Laboratory, which was published in Advanced Science and Nature Communications earlier this year. Liang has participated in the College Park Scholars Program and provided teaching and support for Prince George's County students through the Foundational Learning and Mentorship Experience (FLAME) program. He has been a member of the Alpha Eta Mu Beta (AEMB) bioengineering honor society for three years and served as the initiation chair of the organization for the past year. After graduation, he is planning to pursue an M.D. program.
Senior Marisa Patsy was awarded the BIOE Outstanding Citizen Award, which is presented to a student who demonstrates significant contributions to the community, department, university, and bioengineering profession. Patsy was also recently granted the National Science Foundation's Graduate Research Fellowship, and is president of the Biomedical Engineering Society at the University of Maryland. After graduation, Patsy is excited to pursue her Ph.D. in biomedical engineering at Duke University.
Alana Tillery was awarded the BIOE Outstanding Senior Award, which is presented to a senior on the basis of academic achievement and contributions to the profession and the department. Last year, Tillery was recognized with the department Outstanding Junior Award and Extraordinary Service Award for her volunteer efforts as a Spanish translator and facilitator at local blood drives and emergency rooms amidst the COVID-19 pandemic. She has worked as a teaching fellow for Introduction to Bioengineering in the Keystone Program. Tillery is also a Banneker Key Scholar and Philip Merrill Presidential Scholar and has been accepted to Johns Hopkins University for graduate school to begin her studies towards an M.D./Ph.D.
Published May 5, 2021