Alana Tillery Named Philip Merrill Presidential Scholar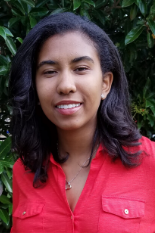 Fischell Department of Bioengineering (BIOE) rising senior Alana Tillery was recently named a Philip Merrill Presidential Scholar. In the Spring 2020 semester, Tillery was also recognized with the departmental Outstanding Junior Award and Extraordinary Service Award.
The Merrill Presidential Scholars Program honors the University of Maryland's most successful seniors and their designated University faculty and K-12 teachers for their mentorship. BIOE Senior Lecturer Angela Jones and King's Fork High School (Suffolk, Va.) Geometry/Algebra II teacher William Ford were recognized alongside Tillery for their outstanding mentorship.
"I first was exposed to STEM through an outreach program, CHROME (Cooperating Hampton Roads Organizations for Minorities in Engineering) in middle school when I built and operated an underwater robot with a team," explains Tillery. "This general science interest shifted to bioengineering when I was encouraged by my high school Geometry/Algebra II teacher Mr. William Ford to combine my appreciations of biology, physics, and math. His display of bottomless support, wisdom, and earnest belief in me reinforced my aspirations, which later shifted to neuroengineering at UMD."
Tillery graduated from King's Fork High School and began her undergraduate BIOE courses in 2017. She first met Dr. Jones while taking her Biology for Engineers (BIOE120) course that year. "Alana Tillery is not only bright, but also clever," Jones remembers. "In BIOE120, she quickly connected early content in the class with an external project she was working on for the International Space Station for the Student Spaceflight Experiments Program. Many students make connections, but she was immediately taking it to the next step -how to use it in the real world."
She later worked as an undergraduate teaching fellow for the same course. "One of the reasons I wanted to be an undergraduate teaching fellow for BIOE120 with Dr. Jones is because of her outstanding approach to instruction and her ability to uplift her students academically and professionally," says Tillery. "As someone aspiring to become a faculty member in bioengineering someday, I wanted to learn from her as part of her team. I want to someday replicate Dr. Jones' dedication to her students and strong leadership and understanding with her students." As an undergraduate teaching fellow, Tillery quickly exemplified strong leadership. She took it upon herself to organize mentors, recruit students, and plan review sessions for the 100+ students enrolled in the course.
Learning about biocomputational methods and organic chemistry were "transformative" experiences for Alana Tillery. " I couldn't help continuing in chemistry with a burgeoning interest in medicine, but I was also drawn to learning more about computational methods and theory," she explains. "Luckily, BIOE afforded me a path to again combine my appreciations for the two subjects by pursuing Pre-Health/Instrumentation for an eventual career in clinical neuroengineering."
Undergraduate research experience led her to devise accessible neural interfaces, and use computational techniques to examine a mechanism for PTSD on the order of brain cells. "The professional scientific journals on neuroengineering are younger than I am," Tillery says. " It's immensely exciting and humbling to join an uncharted sect of bioengineering."
Tillery leads service and outreach for the Biomedical Engineering Society at the University of Maryland (BMES-UMD), and academic affairs for the UMD chapter of Alpha Eta Mu Beta, the National Biomedical Engineering Honor Society. She organizes K-12 STEM outreach and blood drives, organizes course support and academic career development for her department, and is an emergency room volunteer. "What I love most about coordinating Service and Outreach for BMES is organizing STEM outreach to local K-12 students," the student says."I hope to be able to also use my position as 2020-21 AEMB president to promote social cohesiveness, academic wellbeing, and professional growth in the BIOE community." Tillery is also a Banneker Key Scholar and a member of the Louis Stokes Alliance for Minority Participation (LSAMP)and Entrepreneurship and Innovation Program (EIP) on campus.
After graduation, Tillery plans to pursue an M.D./Ph.D. in clinical neural engineering. "Without a doubt, she has a mind for research," says Jones. "She is excited to learn new things, but can also take that new knowledge and build on it. I can't help but think it's her enthusiasm. She's just so excited about what she's doing. The sky is the limit!"
This year, Tillery was named a Philip Merrill Presidential Scholar alongside BIOE classmate Samantha Kraus.
Published June 25, 2020