2020 BIOE Undergraduate Award Recipients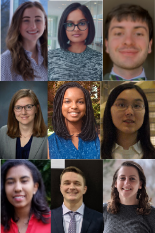 The Fischell Department of Bioengineering (BIOE) congratulates the recipients of the 2020 departmental and college awards and honors.
Departmental Award Recipients
Jules Allbritton-King was awarded the BIOE Outstanding Citizen Award, which is presented to a student who demonstrates significant contributions to the community, department, university, and bioengineering profession. Allbritton-King is a senior conducting research in the Tissue Engineering and Biomaterials Lab for his departmental honors thesis, titled "Gradation of Porcine Bladder ECM in Hydrogels for Chronic Wound Treatment". He is the president and secretary of Alpha Eta Mu Beta (AEMB), the bioengineering honor society, and volunteers in the telemetry ward at Doctor's Community Hospital in Lanham. After graduation, Jules will be working as a post-baccalaureate research fellow at the NIH studying the progression of sclerosing bone diseases, after which he plans to apply for MD/PhD programs.
Robert Hawkins was awarded the BIOE Outstanding Research Award, in recognition of significant contributions to research, the department, and the bioengineering field. Hawkins is a senior majoring in bioengineering and minoring in neuroscience. He is a member of the Integrated Life Sciences and Bioengineering Departmental Honors Programs. His honors thesis is focused on developing a nanoparticle-based method to monitor disease status in patients with obstructive lung diseases. Robert is on the executive board of UMD's founding chapter of Nu Rho Psi and is a coordinator for Terps For Change through which he has tutored local students, and has led the performing of house cleaning and yard work for aging citizens of Washington, DC.
Samantha Kraus was awarded the BIOE Outstanding Junior Award, which recognizes outstanding academic achievement and contributions to the department. Kraus is a member of the University Honors program and the Fischell Department Honors Program. She is performing her honors thesis project on nanoparticle delivery for islet transplantation survival in the lab of Dr. Xiaoming He. She is the vice president of academic affairs for the Biomedical Engineering Society chapter of Maryland, a member of Tau Beta Pi and Alpha Eta Mu Beta, a lifelong member of Girl Scouts, and a singer in Femmes de Chanson. She plans to pursue a PhD in biomedical engineering after graduation.
Erin Reilly was awarded the BIOE Outstanding Leadership Award in recognition of her service to others. Reilly is a senior who is involved in Women in Engineering, has served as Flexus vice president and is a member of the Society of Women Engineers and Alpha Omega Epsilon. In the Biomedical Engineering Society, she serves as the student chapter president and previously held positions in professional affairs and service & outreach, creating events to promote career development for undergraduates. Reilly is a member of the QUEST Honors Program and is president of the Maryland Eventing Team. She has accepted an offer from the NIH to work in vaccine development after graduation.
Alana Tillery was awarded the BIOE Outstanding Junior Award. Tillery is a junior bioengineering student, Banneker Key Scholar, and member of the Louis Stokes Alliance for Minority Participation (LSAMP)and Entrepreneurship and Innovation Program (EIP) on campus. She leads service and outreach for the Biomedical Engineering Society, and academic affairs for the Alpha Eta Mu Beta. Alana engages the community with K-12 STEM outreach and blood drives, organizes course support and academic career development for her department, and is an emergency room volunteer. This summer, she will research stroke rehabilitation using neuron-light interactions at the University of Washington. After graduation, she will pursue an MD-PhD in clinical neural engineering.
Rachel Wills was awarded the BIOE Outstanding Senior Award, which is presented to a senior on the basis of academic achievement and contributions to the profession and the department. Wills is a member of the Gemstone Honors Program, where her team's research focuses on developing a haptic feedback system for robotic surgery. She has been a member of the student chapter of the Biomedical Engineering Society (BMES) for four years and served on the board for two years. Rachel is currently on the executive board for her professional sorority, Alpha Omega Epsilon. She also served as the undergraduate Biomechanics teaching last semester. After graduation, she will work as a clinical trial coordinator at Merck.
A. James Clark School of Engineering College Award Recipients
Mariama Barrie was awarded the Center for Minorities in Science and Engineering Leadership Award, which recognizes a student for their leadership and service, involvement, and impact within a student organization, the initiatives and programs of CMSE, and the university community. Barrie is a senior bioengineering student and a member of the Gemstone Honors College under Team LYTIC, where she has investigated the use of bacteriophages as a treatment for antibiotic resistantdiseases. She serves as an officer on the LSAMP STEM Student Leadership Board, helping to retain and graduate minorities in STEM. Barrie has also has served as a mentor to incoming freshman engineering students in the Center for Minorities in Science and Engineering's Summer Bridge Program.
Lauren Moyer was awarded the International Student Award, which is presented to a student who through their leadership or service has promoted the international engineering experience on behalf of the Clark School and has demonstrated significant involvement in international engineering activities. Moyer is a senior bioengineering and Germanic studies dual-degree student. She has been active with the Honors College Honors Humanities, Flexus: Women in Engineering, and Language House living and learning programs. She spent a semester abroad at the Technical University in Munich, Germany, where she studied and interned in a research lab. On campus, she is a peer advisor in Engineering Career Services and treasurer for Alpa Eta Mu Beta. Additionally, she was recently inducted into Omicron Delta Kappa for her leadership on campus.
Published May 18, 2020