Samantha Kraus Named Philip Merrill Presidential Scholar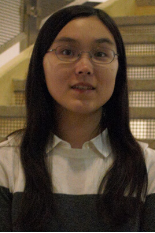 Fischell Department of Bioengineering (BIOE) rising senior Samantha Kraus was recently named a Philip Merrill Presidential Scholar.
The Merrill Presidential Scholars Program honors the University of Maryland's most successful seniors and their designated University faculty and K-12 teachers for their mentorship. BIOE Assistant Professor Kim Stroka and Pennsbury High School (Fairless Hills, Pa.) Calculus teacher Matthew Groden were recognized alongside Kraus for their outstanding mentorship.
"I can wholeheartedly say that Mr. Matthew Groden in his role as teacher for calculus during my time at Pennsbury High School helped me genuinely love learning," says Kraus." Encouraging his students with tireless and sincere support, he embedded in me the idea that math is not a tedium of formulas to be memorized, but a rewarding puzzle. In the future, I hope to continue and 'make the world more compassionate and intelligent,' as Mr. Groden would say."
Kraus was always fascinated by chemistry, biology, and physics for their potential to prescribe tangible meaning to the world around her – and she refused to sacrifice her interest in any of those fields. "In the summer prior to my senior year of high school, I was introduced to the work of Dr. Warren Grayson, a biomedical engineer striving to utilize stem cell scaffolds to fully regenerate human facial bone," explains Kraus. "This discovery convinced me unequivocally that biomedical engineering could fulfill my desire to combine multiple fields of science and make a difference in the world of human health."
In the fall of 2017, Kraus began her BIOE undergraduate studies. At first, she was unsure of which concentration of bioengineering she would pursue. She joined the UMD chapter of Alpha Eta Mu Beta (the National Biomedical Engineering Honor Society), the Biomedical Engineering Society at the University of Maryland (BMES-UMD), and the BIOE Undergraduate Honors Program.
Kraus met Stroka as student in two of her courses, and through the BIOE Honors Program Seminars, which Stroka leads. "Samantha Kraus is a stellar student and scholar," says Stroka. "She is brilliant and inquisitive, and her deep critical thinking skills have enabled her to excel both in the classroom and in the lab. Samantha has a remarkable ability to couple her knowledge from the classroom with her ability to critically evaluate scientific literature."
During her sophomore year, Kraus joined BIOE Professor Xiaoming (Shawn) He's Multiscale Biomaterials Laboratory group as an undergraduate researcher. "As my time working in the He lab went on, I became more intrigued by the potential of regenerative medicine and drug delivery, and thus I decided to base my thesis project on these topics," says Kraus. She opted for a concentration in Biomechanics and Biomaterials.
Kraus is now working towards an Honors thesis through the Bioengineering Honors Program. Her research focuses on designing a method to induce stem cells to differentiate into beta cells for nanoparticle-based treatments of type 1 diabetes. She has goals of pursuing a doctoral degree so she can continue to contribute to biomedical research.
"Samantha has an amazing future ahead of her," says Stroka. "She always seems to know the answers, while at the same time asking all the right questions. The field of bioengineering is lucky to have her!"
This year, Kraus was named a Philip Merrill Presidential Scholar alongside BIOE classmate Alana Tillery.
Published July 6, 2020