Tillery Serves Community at COVID-19 Testing Sites and Local ER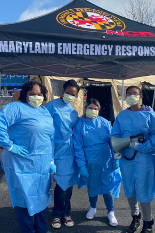 Fischell Department of Bioengineering (BIOE) student Alana Tillery was recently honored with the departmental Extraordinary Service Award, recognizing her outstanding leadership and volunteerism during the COVID-19 pandemic.
The rising senior is driven towards clinical neurotechnology, or bioengineering with a focus on impacting sufferers of neuropsychiatric impairment. "I am pursuing bioengineering to learn more about the invisible illnesses that lurk behind the most prodigious yet insidious organ, the brain," Tillery says. "My favorite part of bioengineering has been all the math courses we take, and my experience in the Bioinstrumentation track. Reading bioengineering technology literature in 631 and wiring circuits in 457 are right down the alley of my future career." After her graduation, she plans to pursue an MD-PhD in clinical neural engineering.
Tillery began volunteering at the Maryland Reserve Corps during the pandemic. Her service included facilitating blood drives, outreach events, and COVID-19 screening in Prince George's County. "One afternoon, I saw a tweet from Maryland's Governor Larry Hogan about a need for volunteers in the Medical Reserve Corps to set up pandemic screening sites in Maryland," explains Tillery. "I'd been following the news, and thought that one more pair of hands could make a difference."
She became a unique asset to the testing site personnel as a translator, connecting Spanish-speaking patients with English-speaking medical professionals. " I started as an emergency translator for the nurse and physician team if other Spanish speakers were not around, but have since taken on a primary role as a Spanish translator," Tillery explains. "On that note, through my volunteering endeavors I was able to brush up on the Spanish I'd learned in high school to better serve the strong Hispanic population in our locality - and learned that as a future physician, I should strive to maintain my Medical Spanish."
Tillery urges those looking to aid in pandemic relief to get involved with the Medical Reserve Corps - "There are units across the country and this is a great opportunity to support the community during times of crisis. Also, contact tracers (detectives who inform and protect people whose loved one may have been infected) and community health workers (volunteers who aid nurses and physicians at testing site) are key to saving the most vulnerable among us."
Amidst the COVID-19 pandemic, Tillery also began giving her time as an Emergency Room (ER) volunteer at the Adventist Healthcare White Oak Medical Center in Silver Spring, MD. She plans to continue working as an ER volunteer throughout her senior year.
"By listening to patients' stories, in Spanish or in English, I learned about the hardships of essential workers and those in large families who feared self-isolation impossible," Tillery shares. "I also learned about the inspiring tales of triumph of families over the disease when following Center for Disease Control (CDC) prevention and infected persons care guidelines. I'm happy to have a place of honor alongside my peers who are working hard to improve the lives of others right now."
Alana Tillery is a Banneker Key Scholar and a member of the Louis Stokes Alliance for Minority Participation (LSAMP)and Entrepreneurship and Innovation Program (EIP) on campus. She leads service and outreach for the Biomedical Engineering Society at the University of Maryand (BMES-UMD) and academic affairs for the Alpha Eta Mu Beta, the National Biomedical Engineering Honor Society. She engages the community with K-12 STEM outreach and blood drives, organizes course support and academic career development for her department, and is an emergency room volunteer. Tillery was also recently awarded the BIOE Outstanding Junior Award.
Published June 22, 2020