Huang Elected to American Society for Photobiology Council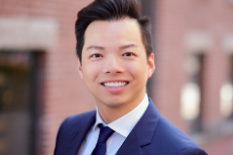 Fischell Department of Bioengineering Assistant Professor Huang Chiao (Joe) Huang was elected to the American Society for Photobiology (ASP) Council. Huang is one of only 12 councilors elected to provide representation from the major subdivisions of the society for a term of four years.
Established in 1972, ASP promotes research in photobiology, integration of different photobiology disciplines, and dissemination of photobiology knowledge. APS also provides information on photobiological aspects of national and international issues.
Huang has expertise in precision cancer nanomedicine, the development of mechanism-based combination therapy, photodynamic therapy for cancer, and site-directed photochemistry and fluorescence diagnostics. He works in photoimmunotherapy, photodynamic priming, nanotechnology, biomedical optics, and molecular targeting in cancer.
Published June 18, 2020