Eppler Receives NIH F31 Grant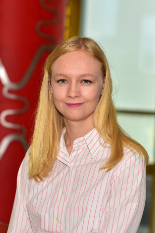 Fourth-year Ph.D. student Haleigh Eppler was recently named a recipient of the Ruth L. Kirschstein Predoctoral Individual National Research Service Award (F31) by the National Institutes of Health (NIH).
Eppler is a biological sciences graduate student with a concentration in molecular and cellular biology. She is a NIH Doctoral Fellow, a Dr. Edna O. Hokenson Endowed Fellow, and a member of Fischell Department of Bioengineering (BIOE) Associate Professor Christopher Jewell's Immune Engineering Lab studying immune tolerance.
The F31 grant will fund Eppler's research for two years. This research will use biomaterial depots to codeliver myelin antigen and regulatory cues to probe how immune cells are able to create a tolerogenic immune response to self tissue while retaining the ability to fight infection.
"Autoimmune diseases occur when immune cells target healthy host cells for degradation," Eppler explains. "One example is Multiple Sclerosis, where the immune system attacks the central nervous system by targeting the protective myelin coating on nerves. Current Multiple Sclerosis therapeutics do not differentiate between self-reactive inflammatory and healthy immune cells, which can leave patients unable to fight infection. Next generation therapeutics seek to prevent immunosuppression by promoting self-reactive immune cells to adopt tolerogenic rather than inflammatory functions."
Jewell and his laboratory group have made large strides in multiple sclerosis immunotherapy research, combining immunology and nanotechnology to reprogram how the immune system responds to self-cells in the brain that are mistakenly attacked by the disease. In 2018, Jewell was awarded a $1.4 million NIH R01 grant for novel multiple sclerosis research. In 2019, Jewell Lab members Michelle Bookstaver and Emily Gosselin received the F31 grant.
Published June 17, 2020