Scarcelli Applies NSF CAREER Award to Study Embryonic Development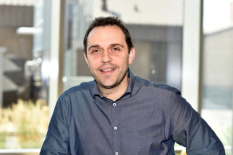 Fischell Department of Bioengineering (BIOE) faculty member Giuliano Scarcelli was named a recipient of the National Science Foundation's Faculty Early Career Development (CAREER) award. The five-year, $537,000 award will support Scarcelli's efforts to develop a novel imaging technology to measure how biological cells grow into complex tissues during embryonic development.
Currently a BIOE assistant professor, Scarcelli was recently promoted to associate professor, effective July 1. He is also a faculty member of the University of Maryland's Robert E.Fischell Institute for Biomedical Devices.
Applying a technique known as Brillouin microscopy, Scarcelli and members of his Optics Biotech Lab are working to improve understanding of the biomechanical aspects of embryonic development. Previous technologies to observe embryonic development have mostly focused on probing genetic and biochemical control of tissue growth.
"While our understanding of genetic, biochemical, and molecular controls of tissue growth can rely on several established methods, the biomechanics of tissue morphogenesis remains poorly understood mostly due to the lack of suitable measurement techniques," Scarcelli said.
Brillouin microscopy relies on a specialized light-scattering phenomenon to image the viscoelastic and mechanical properties of biological materials in a non-invasive manner. In this project, Scarcelli and his team are taking the technology a step further by developing a form of "light-sheet" Brillouin microscopy, such as where all points illuminated by a thin optical beam are measured at once.This will enable rapid mapping of elastic modulus in a developing embryo — without contact — at high 3D resolution.
"Brillouin microscopy has already proven impactful in tissue and cell biomechanics, but it currently relies on point-scanning to build an image," Scarcelli said. "Thus, traditional Brillouin microscopy techniques are not suited for embryo studies due to speed and damage limitations."
By developing a Brillouin light-scattering technology compatible with light-sheet microscopy platforms, Scarcelli and his team will be able to superimpose their mechanical maps with structural and functional properties of tissues and cells. This, in turn, enables the group to advance mechanobiology studies of morphogenesis by allowing them to observe properties such as elasticity, as well as cell and tissue size, shape, and organization, in addition to cell signaling activation and expression patterns.
Working at the interface of photonics, biomechanics and developmental biology, Scarcelli and his team plan to use NSF support to provide opportunities to educate and train graduate and undergraduate students with a diverse set of skills. Through the project, Scarcelli also hopes to introduce middle-school students to STEM through activities that offer hands-on exercises that connect microscopy technology to real-life familiar applications.
Published June 15, 2020