Clyne, Ma, Stroka Promoted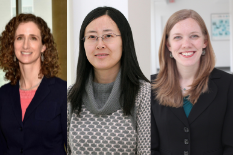 The Fischell Department of Bioengineering (BIOE) and the A. James Clark School of Engineering extends its congratulations to Alisa Morss Clyne, Lan Ma, and Kim Stroka, who were promoted to professor, senior lecturer, and associate professor, respectively. These three BIOE promotions are effective July 1, 2021.
Dr. Clyne joined BIOE as an associate professor and principal investigator of the Vascular Kinetics Laboratory in January 2019. Clyne and her lab study how the mechanical properties of blood vessels, particularly at the microscopic and molecular levels, change in response to elevated glucose, stress hormones, and other compounds present in blood. By understanding the ways in which biology influences how blood vessels form, function, and fail, Clyne's lab seeks to contribute to potential new therapies and approaches for treating disease.
Clyne also serves as BIOE's inaugural Associate Chair for Diversity, Equity, and Inclusion. Clyne is eager to continue to expand research into larger projects, create new opportunities for learning and growth at all levels, and build a more equitable bioengineering environment as a professor.
"I am most proud of the new directions I am pursuing in research, education, and DEI that were made possible by my move to the University of Maryland two years ago," says Clyne. "In the laboratory, we are studying the mechanical and metabolic impacts of diet and exercise on cardiovascular and neurodegenerative diseases, which was made possible by new lab members and collaborators at UMD. In the classroom, a long-time goal to teach a class in cardiovascular engineering has become a reality! Finally, I am honored to lead our department's efforts to become a more diverse, equitable, and inclusive home for students, staff, and faculty. I've learned an enormous amount in all these areas over the past two years."
Dr. Lan Ma joined BIOE as a lecturer in 2016.
"Laying a solid quantitative foundation in the training of our next-generation bioengineers is becoming unprecedentedly critical, as it has been appreciated that quantitative approach plays an important role in the state of art and future perspectives of biology and life sciences," explains Ma. Over the past five years, she has focused on teaching undergraduate math and computation-heavy courses and strengthening students' quantitative skills. "It's so encouraging to receive acknowledgements from students saying how much they enjoyed taking my courses, and that they learned a lot of valuable quantitative knowledge and extensions from previous math courses, or built strong programming skills," she says.
This fall, she will lead the new B.S. in Biocomputational Engineering program as its assistant director at the Universities at Shady Grove campus.
"I am excited about embarking on the meaningful yet challenging endeavor to prepare bioengineers for career paths in the blooming field of biological data science," explains Ma. "It is an honor to contribute my expertise in quantitative biology to the exciting development of the Fischell Department of Bioengineering. I look forward to engaging more undergraduate students to study at the interface of biotechnology, mathematics, computer programming and data science, and helping them grow into biocomputational engineers who are capable of performing transformative work in the new era of biomedicine and health care driven by cross-disciplinary technologies."
Dr. Stroka first joined BIOE as a Ph.D. student in 2006, the department's year of establishment.
In January 2015, the alumna returned to the department, where she began her term as assistant professor and principal investigator of the Cell and Microenvironment Engineering Lab.
The Stroka lab's research focuses on understanding the interplay between mechanical and biochemical cues from the cellular microenvironment on cellular behavior during normal homeostasis, progression of diseases, and therapeutic treatments. Stroka and lab members engineer cells and their microenvironment in order to create model systems that allow them to systematically understand cellular and tissue mechanobiology in the context of health and disease.
"It has been an honor to serve as a faculty member in the Fischell Department of Bioengineering over the past 6 years," says Stroka. "The community of faculty, staff, and students is stellar, and this journey so far has been really fun. A special thank you goes to all the graduate and undergraduate students who have conducted outstanding research in my lab and helped drive my lab's vision forward, along with the students in my classes who inspired me in so many ways. I am also incredibly grateful for the opportunity to take this academic adventure with my family - including my husband, Tom, and three little daughters, Gabriella, Adelaide, and Elanna - who frequently remind me that while the big milestones (like a promotion) are certainly exciting, the most joy is found in the smaller steps taken and challenges embraced along the way."
Since Stroka's appointment to BIOE faculty, she has received the University of Maryland Research and Scholarship Award, Maryland Academy of Sciences Outstanding Young Scientist Award, and Faculty Teaching Award, and been honored as a Cellular and Molecular Bioengineering Young Innovator. Most recently, she has been recognized with the NSF CAREER Award, Philip Merrill Faculty Mentor Award and E. Robert Kent Teaching Award for Junior Faculty.
Dr. Stroka is currently director of the BIOE Honors Program, co-director of the BIOE REU site, and co-director of the NCI/UMD Partnership for Integrated Cancer Research. She is also organizing NanoDay 2022, along with the Maryland NanoCenter.
In addition to research, Dr. Stroka is passionate about mentorship and outreach, both within the University and in the surrounding community. Stroka and members of her laboratory group have led demonstrations and research and career talks for elementary school students from underrepresented minority groups, female middle and high school students, breast cancer patient advocates, and adults age 50+. Stroka's NSF CAREER Award allowed her to develop new resources for outreach to rural high schools, research skills training workshops for primarily undergraduate institutions and community colleges, and a new podcast geared towards early career scientists and built from interviews with a diverse set of scientists and engineers.
"Drs. Clyne, Ma, and Stroka have made enormous contributions to our department and the field of bioengineering," says Fischell Family Distinguished Professor and BIOE Chair John Fisher. "Their commitment to the advancement of human health is matched by their commitment to our students. We are tremendously proud of these faculty members' outstanding research and dedication to the evolution of our program – particularly in diversity, equity, and inclusion efforts, renewed focus on grant opportunities for students and the growth of our NSF Research Experiences for Undergraduates program, and expansion of our curriculum."
Published June 24, 2021