McCright Named American Heart Association Predoctoral Fellow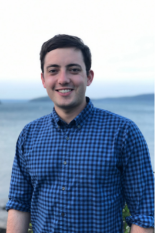 Fischell Department of Bioengineering (BIOE) third-year Ph.D. student Jake McCright was recently honored with the American Heart Association Predoctoral Fellowship.
This fellowship was created to enhance the integrated research and clinical training of promising students who are matriculated in pre-doctoral or clinical health professional degree training programs and who intend careers as scientists, physician-scientists or other clinician-scientists, or related careers aimed at improving global cardiovascular, cerebrovascular and brain health.
McCright is an alumnus of the BIOE undergraduate program; he earned his Bachelor's degree in 2018. He completed his undergraduate research at the FDA under Dr. Jakob Reiser, focusing on developing safer lentiviral vectors.
McCright was the first Ph.D. student to join BIOE Assistant Professor Katharina Maisel's Mucosal Associated Immune System Engineering and Lymphatics Lab. The lab uses in vitro modeling, nanotechnology, and immunoengineering approaches to study and develop treatments for diseases at mucosal surfaces.
"It was a great experience being able to see and be involved in the set-up of a new research group," says McCright. "Joining a new lab gave me the unique opportunity to choose from an array of potential projects and be able to guide the projects too."
His primary research interests lie in designing nanoparticles which can effectively enter the lymphatics and reach lymph nodes to improve immunotherapeutic (i.e. vaccine) delivery. This research can help McCright better understand the mechanisms that regulate lymphatic transport.
McCright is excited to use his American Heart Association fellowship as an opportunity to network with other vascular researchers and further his own research.
Published June 21, 2021