Ackun-Farmmer Receives SFB Outstanding Ph.D. Research Award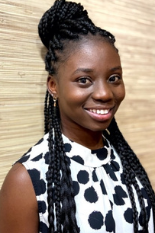 Fischell Department of Bioengineering (BIOE) postdoctoral researcher Marian Ackun-Farmmer was recently recognized with the Society for Biomaterials (SFB) Outstanding Ph.D. Research Award. SFB is a multidisciplinary society of academic, health care, governmental and business professionals dedicated to promoting advancements in all aspects of biomaterial science, education and professional standards to enhance human health and quality of life.
Ackun-Farmmer was born in Ghana and migrated to the United States at 10 years old. She graduated from George Washington University in Washington, D.C. in 2012 with a B.S. in biomedical engineering. She then joined a three-year rotational employment program at Baxter International. During that time, she rotated in various quality assurance roles at the Mississippi, North Carolina, and Indiana manufacturing facilities. In 2015, Marian joined the lab of Danielle S.W. Benoit at the University of Rochester, where she focused on developing drug delivery systems to improve acute myeloid leukemia treatments. She joined BIOE as a postdoc in Minta Martin Professor of Engineering Chris Jewell's Immune Engineering Lab in November 2020.
During her Ph.D. research, she gained an appreciation for the interactions between the immune system and biomaterials, which translated to her current multiple sclerosis research in the Jewell Lab. She first became acquainted with SFB and its mission while completing her Ph.D., and traveled to Bordeaux, France for a conference hosted by SFB and its European counterpart in June 2018.
"It was phenomenal," the BIOE postdoc remembers. "I really love the Society for Biomaterials. The Bordeaux meeting was really small, so it was a great opportunity to network. We got to present work at an international conference, and I met a professor who had authored one of my biomaterials textbooks." Ackun-Farmmer traveled to Seattle, Wa. for another SFB conference in 2019, and has attended several other meetings which went virtual amidst the COVID-19 pandemic.
Her award winning Ph.D. research submission focused on bone targeting to improve drug delivery efficiency to the bone marrow, where leukemia develops. "Previously, we had developed a peptide sequence with a specific binding affinity to a protein that is deposited by osteoclasts during bone resorption," the BIOE postdoc explains. "We have previously shown that our peptide-targeted nanoparticle system works really well in fracture healing, particularly in the early stages when, osteoclasts come in and deposit a bunch of this protein. So we researchers can take our nanoparticles and get it to the bone using this approach as a way to improve therapeutic outcomes of drugs that otherwise cannot get to the bone marrow."
Despite the system's successes, Ackun-Farmmer noticed a shortcoming; a massive amount of nanoparticles were accumulating in the spleen and the liver, but to treat leukemia, these particles needed to be in the bone.
Ackun-Farmmer and her cohort focused on macrophages, white blood cells which surround and kill microorganisms, remove dead cells, and stimulate the action of other immune system cells. The group used a common liposomal treatment to eliminate macrophages, and observed that a slew of nanoparticles bind to the bone instead of accumulate in the liver.
"We showed this in a naive model, as well as a fracture model," she says. "And so that was really exciting, because it confirmed that the limiting step to our front lever system was macrophages. It informs next generation designs to try to eliminate macrophage or liver uptake - to essentially avoid macrophages altogether."
After six months as a BIOE postdoc, Ackun-Farmmer is excited to continue multiple sclerosis research with the Jewell Lab and experience the university's campus as it transitions back to normal operations post- pandemic. Her sights are set on a career in academia.
Published May 26, 2021