Scarcelli Named Fischell Institute Young Investigator Fellow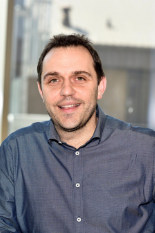 Fischell Department of Bioengineering (BIOE) Associate Professor Giuliano Scarcelli and Department of Physiology Professor Stuart Martin were selected as recipients of a Fischell Institute Young Investigator Fellowship.
The Robert E. Fischell Institute for Biomedical Devices launched the first Fischell Institute Young Investigator Fellowship Program this spring. The purpose of this program is to foster collaborations amongst successful teams including Fischell Institute faculty on University of Maryland's Baltimore and College Park campuses. The funds enable high impact, translational and/or exploratory research in medical devices.
"Sustaining highly productive team endeavors is difficult and there are few programs that are designed specifically to encourage collaborators to explore new avenues for their research," said Fischell Institute director William E. Bentley. "The Young Investigator Program does just that. It rewards successful teams and encourages them to expand their horizons and at the same time, brings a Young Investigator into the team, promoting their development and research success."
In this case, the funds will aid in the research and training of Giulia Zanini, a postdoctoral researcher in Scarcelli's Optics Biotech Laboratory and optical microscopy expert.
Three teams were selected to receive funds for recruiting FY21 Fischell Institute Young Investigators.
In the past, Scarcelli has pioneered a novel technology called Brillouin microscopy which uniquely provides mechanical information of cells and tissue without contact or mechanical perturbation.This information, including details about stiffness or softness, viscosity, and density, is valuable to researchers, but would normally require invasive procedures, like cell contact or destruction.
This Fischell Institute fellowship proposal - "Stimulated Brillouin scattering for label-free mechanical flow cytometry" - is a natural extension of Scarcelli and his team's successful multidisciplinary model to cancer applications.
Cell mechanical properties continue to gain recognition for their key role in metastatic progression, and flow cytometry using cell mechanical signatures would allow researchers to screen and sort cells based on functional parameters for the first time.
"The tumor research and clinical world is currently seeing the rapid growth and adoption of single-cell analysis techniques (e.g. flow cytometry, single-cell RNAseq), which are performed either on dissociated cells from surgical biopsies or circulating tumor cells, explains Scarcelli. "Brillouin technology would fit with this emerging diagnostic pipeline to provide biophysical information about cells, which currently does not exist."
This research could potentially provide clinics with a novel user-ready screening tool for assessing tumor metastasis risk.
The complete award-winning team consists of Zanini, Scarcelli, Martin and Kostas Konstantopoulos (Johns Hopkins University, Baltimore, Maryland). "The team was born organically from the application of our novel technology - Brillouin microscopy- to tumor biology applications," says Scarcelli. "Dr. Konstantopoulos and Dr. Martin are leading experts in tumor biology who have a strong track record of establishing mechanical properties as critically important for tumor progression (and a history of collaboration between them, e.g. paper in Nature Biomedical Engineering). I had collaborated with each of them separately for an article in Science Advances with Dr. Konstantopoulos; and for a grant with Dr. Martin."
Zanini joined Scarcelli's lab in May 2019, and is an expert on nonlinear optics - the basic physics on which this proposed new technology is based. She earned her Ph.D. in Physics from University of Genoa in Italy with a thesis on super-resolution label-free optical microscopy in 2019.
"I first approached optics and microscopy during my master degree in Physics, about eight years ago, and since then I have studied and worked mostly with nonlinear optics, a subset of light-matter interactions which stimulated Brillouin scattering is part of," explains Zanini. "My Ph.D. in Physics was focused on the design and development of nonlinear pump-probe microscopy systems, whose principles are the basis for the development of a stimulated Brillouin microscopy platform."
Her current research in Scarcelli Lab focuses on the design and development of a stimulated Brillouin microscope to be implemented as a fast screening tool for the characterization of cellular and subcellular mechanical properties.
The team is eager to develop and deploy technology to clinical and research settings going forward. "The Fischell Institute Young Investigator Award will enable us to augment our current efforts by pushing the speed limits of Brillouin technology 100-fold by using nonlinear optics," says Scarcelli.
"Furthermore, the interaction with Fischell Foundry will enable creating a user-ready instrument to be tested in the clinic and design an add-on module to provide mechanical analysis to commercial cytometers/sorters, which would greatly increase the prospect of wide adoption."
Learn more about how Scarcelli and the Optics Biotech Lab are using Brillouin microscopy to improve understanding of cell, ocular and embryonic development biomechanics.
Published June 10, 2021