Eppler Selected for St. Jude National Graduate Student Symposium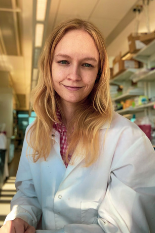 Fifth-year Ph.D. student Haleigh Eppler was selected for St. Jude's 2021 National Graduate Student Symposium (NGSS). Eppler is a doctoral candidate in the University of Maryland's Biological Sciences program and a researcher in Fischell Department of Bioengineering (BIOE) Minta Martin Professor Christopher Jewell's Immune Engineering Lab studying immune tolerance.
St. Jude Children's Research Hospital offers two annual invited events for select Ph.D. students from around the U.S.: the National Graduate Student Symposium, held in spring, and the Future Fellow Research Conference, held in summer.
"I got to spend three days learning about St. Jude as a research center, hospital, and community," says Eppler. "We took a virtual tour of the campus and the city of Memphis, and a chance to meet with current research faculty and postdoctoral researchers. I could feel a sense of community on the campus, even through a virtual tour. I really loved how the researchers, doctors, and patients all ate in the same cafeteria. Everyone is working toward a common goal of supporting these children".
Eppler aso had the opportunity to present her research findings to St. Jude's faculty and other NGSS attendees. She discussed how microparticles can be used to promote tolerance in cases of autoimmune disease and transplantation.
Her research in the Jewell Lab focuses on understanding how immune cells differentiate between self tissue and foreign molecules. Immune cells protect the body's own tissue from damage while degrading dangerous foreign organisms to prevent illness. When the body mistakenly attacks itself as foreign, autoimmune diseases develop. "I use biomaterials to deliver combinations of signals to immune cells to better understand the conditions required to support healthy immune function," Eppler explains.
After completing her Ph.D., Eppler aspires to build a career in academia, working as a postdoctoral researcher and ultimately as a professor. "I hope that the research I do will help patients one day," she says.
Last year, Haleigh Eppler was named a recipient of the National Institutes of Health's Ruth L. Kirschstein Predoctoral Individual National Research Service Award (F31) and the University of Maryland's Dr. Edna O. Hokenson Endowed Fellowship.
Published June 8, 2021