Jewell Named Minta Martin Professor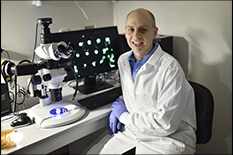 The A. James Clark School of Engineering named Fischell Department of Bioengineering Associate Professor and Associate Chair Christopher Jewell the Minta Martin Professor of Bioengineering, effective July 1.
Minta Martin Professors are faculty members who have made significant scholarly contributions in their areas of research. The five-year professorship carries funding to support activities and personnel related to scholarly research, such as undergraduate or graduate students, postdoctoral scientists, materials and supplies, publication charges, and travel.
Jewell and members of his Immune Engineering Lab are working in three primary research areas: investigating the impact of biomaterials on immune cells and tissues; designing new materials to better control the specific features of immune response; and harnessing biomaterial for more potent and selective therapeutic vaccines that target autoimmune diseases and cancer.
In addition to his BIOE appointment, Jewell is a faculty member with the Robert E. Fischell Institute for Biomedical Devices, a research biologist with the U.S. Department of Veterans Affairs at the Maryland VA Health Care System, and a full member of the University of Maryland Marlene and Stewart Greenebaum Comprehensive Cancer Center.
Jewell has authored more than 85 papers and patent filings, including papers in ACS Nano, Cell Reports, Nature Materials, and Nature. His efforts have been recognized by awards for research and education, including the National Science Foundation CAREER Award, the Damon Runyon-Rachleff Innovation Award, the Alliance for Cancer Gene THerapy Young Investigator Award, and the University of Maryland Research and Scholar Award.
Minta Martin was the mother of Glenn L. Martin, the aviation pioneer for whom Glenn L. Martin Hall and the Glenn L. Martin Wind Tunnel are named, along with the Glenn L. Martin Institute of Technology. In 1944, in commemoration of the 50th anniversary of engineering at the University of Maryland, Glenn L. Martin made a gift of $1.7 million to the university to establish instruction and research in the aeronautical sciences.
A second gift of $800,000, named in honor Minta Martin, was made the following year. Today, this endowment is a major source of research funding for faculty, staff, and students in the A. James Clark School of Engineering.
In the same week that his Minta Martin professorship went into effect, Jewell was awarded the Presidential Early Career Award for Scientists and Engineers (PECASE). The PECASE is the highest honor bestowed by the U.S. government to outstanding scientists and engineers who are beginning their independent research careers and who show exceptional promise for leadership in science and technology.
Published August 23, 2019