Scarcelli Receives Junior Faculty Outstanding Research Award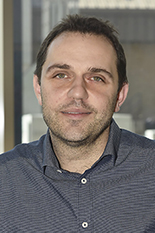 Fischell Department of Bioengineering (BIOE) Assistant Professor Giuliano Scarcelli was named the recipient of the 2019 A. James Clark School of Engineering Junior Faculty Outstanding Research Award. His recognition represents one of the highest honors that the Clark School bestows upon any of its junior faculty.
"The University of Maryland has been a nurturing home since the day I arrived," Scarcelli said. "I hope to repay the trust placed in me with this award. It should truly go to the group of talented postdocs and graduate students I have been lucky to work with in these years."
Scarcelli's research focuses on the interaction of light and matter to develop imaging modalities for mapping properties of tissues, cells, and biomaterials. He has established himself as an innovator in the field of biomedicine, with significant contributions to the development of Brillouin microscopy.
Scarcelli first joined the BIOE faculty in 2015. Since launching his Optics Biotech Lab, he has raised more than $9 million in grants from the National Institutes of Health (NIH), the National Science Foundation, and private organizations. He has authored more than 60 peer-reviewed papers and has been the recipient of several awards, including the Human Frontier Science Program Young Investigator Award, the NIH Quantitative Research Career Development Award, and teaching excellence awards from both Harvard University and the University of Maryland.
In addition to his role with BIOE, Scarcelli is a faculty member with the Robert E. Fischell Institute for Biomedical Devices.
Published August 26, 2019