BIOE Postdoc Recognized for Early Colon Cancer Detection Research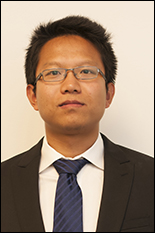 Fischell Department of Bioengineering (BIOE) postdoctoral research associate Qinggong Tang was recently named the recipient of a two-year, $100,000 grant from the Prevent Cancer Foundation to develop an endoscopic multi-modality optical imaging system for early colon cancer detection.
Colorectal cancer is the third most common form of cancer diagnosed in both men and women in the United States, and the second- and third-leading cause of cancer-related deaths for men and women, respectively. When colorectal cancer is found at an early stage before it has spread, it has a five-year survival rate of 90 percent.
But, the survival rate drops to less than 10 percent once the cancer metastasizes. Unfortunately, only 25 percent of colorectal cancer cases are discovered in the early stage.
Recognizing this, Tang is working with fellow members of Associate Professor Yu Chen's Biophotonic Imaging Laboratory to develop new diagnostic tools – including novel high-resolution imaging techniques – that could aid early colorectal cancer detection, and guide biopsy procedures to improve sampling accuracy. When followed by preventative therapy, the new tools could lead to significant improvement in patient survival and quality of life.
Like colorectal cancer, many cancers arise from epithelial layers such as those of the gastrointestinal (GI) tract. Today, white-light endoscopy-guided excisional biopsy and histopathology remain the gold standard for GI cancer diagnosis. Unfortunately, this standard suffers from high false negative rates due to sampling errors, in large part because current endoscopy technology cannot detect early-stage subsurface lesions.
To tackle this challenge, Tang, Chen, and fellow lab members are working to develop a new generation of endoscopic imaging technology by combing two complementary optical imaging modalities: fluorescence laminar optical tomography (FLOT) and optical coherence tomography (OCT). Their hope is that FLOT would provide depth-resolved quantitative molecular information using molecular-specific contrast agents, and OCT would provide high-resolution (micron-level) morphological images. Put simply, the team believes that by combining these two techniques, they can create a multi-modal imaging technology capable of producing high-sensitivity and high-specificity imaging for early detection of colorectal cancer as well as other GI and epithelial cancers.
"If successful, our proposed research will lead to the development and validation of a new noninvasive biomedical imaging tool for early cancer detection," Tang said. "After the development and validation in preclinical animal studies, this project has high potential to be translated into clinical studies. It is expected to have a major impact on detection, diagnosis, and characterization of GI cancers, as well as a wide range of epithelial cancers."
Tang's interest in biomedical imaging traces back to his early days as an undergraduate student at China's Huazhong University of Science and Technology, where he first developed a fascination for the power of light in revealing structural and functional information about biomolecules.
"Prompted by strong interests in the application of physics and engineering in life science, I decided to pursue research in developing optical technologies for biomedical applications," he said. "During my Ph.D. study, my grandmother died from cancer. It was then that I decided to focus on developing new diagnostic tools for early cancer detection, which may help to improve patient survival rates and quality of life."
Founded in 1985, the Prevent Cancer Foundation, a 501(c)3 nonprofit, supports cancer prevention research, education, advocacy and outreach programs nationwide. The foundation has played a pivotal role in developing a body of knowledge that is the basis for important prevention and early detection strategies. More information is available at www.preventcancer.org
Published March 1, 2018