NCC-PDI to Host Pediatric Device Innovators Forum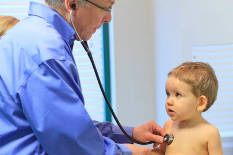 The National Capital Consortium for Pediatric Device Innovators (NCC-PDI) – a joint collaboration between Children's National Hospital and the Robert E. Fischell Institute for Biomedical Devices – will co-host the Pediatric Device Innovators Forum on Thursday, July 22.
This event is jointly led by the U.S. Food and Drug Administration (FDA)'s Pediatric Device Consortia (PDC), and will take place virtually from 2 p.m. – 3:30 p.m. ET. This free livestream event is open to all faculty, students, and postdocs, and will feature clinical, regulatory, and reimbursement experts discussing the topic "Focused Ultrasound for Pediatric Indications." Topics will relate to pediatric medical device innovation and alternative solutions to surgery, such as focused ultrasound. This event is free, but you must register in advance to gain access.
About the Event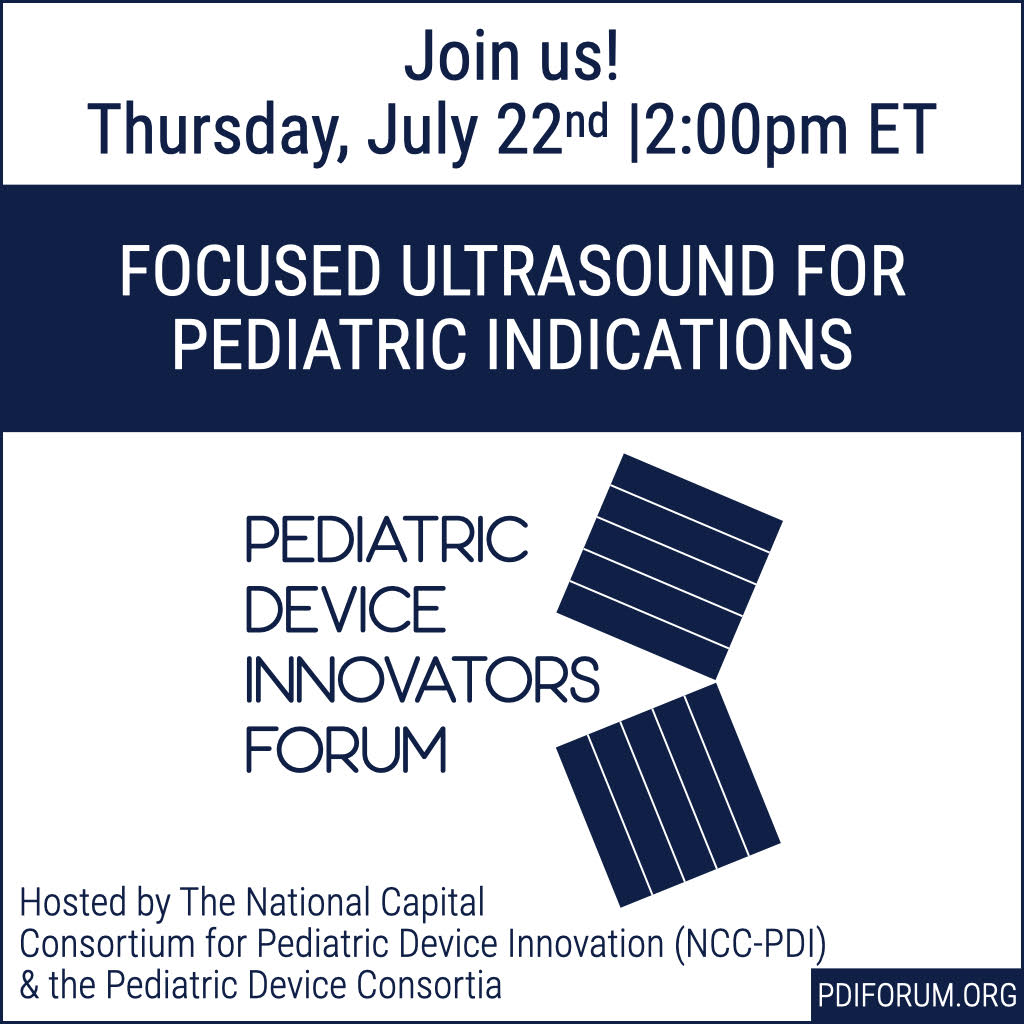 Focused ultrasound is a noninvasive therapeutic technology that offers an alternative to surgery, radiation therapy, drug delivery and cancer immunotherapy. The technology has the potential to increase the quality of life and decrease the cost of care for pediatric patients.
Radiologists at Children's National use MR-HIFU to focus an ultrasound beam into lesions, usually tumors of the bone and soft tissues, to heat and destroy the harmful tissue in that region, eliminating the need for incisions. In 2015, Children's National doctors became the first in the U.S. to use MR-HIFU to treat pediatric osteoid osteoma (OO), a painful, but benign, bone tumor that commonly occurs in children and young adults. Led by Karun Sharma, M.D., director of Interventional Radiology, the trial demonstrated early success in establishing the safety and feasibility of noninvasive MR-HIFU in children as an alternative to current, more invasive approaches to treat these tumors. The Children's National team conducted another clinical trial, led by pediatric oncologist AeRang Kim, M.D.,Ph.D., to treat relapsed soft tissue tumors such as sarcomas.
In September 2020, the Focused Ultrasound Foundation designated Children's National Hospital as the first global pediatric Center of Excellence for using this technology to help patients with specific types of childhood tumors.
After garnering successful clinical trial results at Children's National, in November 2020, the FDA announced the approval of Profound Medical's Sonalleve MR-HIFU system for the treatment of OO in the extremities. This marks the first focused ultrasound regulatory approval that will directly impact pediatric patients and the sixth indication to earn approval in the U.S. Nine patients were treated at Children's National in a pilot trial designed to evaluate the safety and feasibility of MR-HIFU ablation treatment in patients with painful OO. The procedure was performed without any technical difficulties or serious adverse events in all nine patients and resulted in complete pain relief with no further pain medication usage in eight out of nine patients.
The Children's National team has built an active clinical trials program and become a leader in translation of focused ultrasound for the treatment of pediatric solid tumors. Focused ultrasound has also proven to be an attractive modality for its ability to non-invasively, focally and temporarily disrupt the blood brain barrier (BBB). The latter presents an opportunity in pediatric care to treat Diffuse Intrinsic Pontine Glioma (DIPG), a highly aggressive brain tumor. Roger Packer, M.D., senior vice president of the Center for Neuroscience and Behavioral Medicine at Children's National, is planning a clinical trial protocol to investigate the safety and efficacy of the technology.
Drs. Sharma and Packer will be among the clinical, regulatory and business experts speaking at the forum. Program attendees will also include Jessica Foley, M.D., chief scientific officer, Focused Ultrasound Foundation; Arjun Desai, M.D., chief strategic innovation officer, Insighttec; Arun Menawat, M.D., chairman and CEO, Profound Medical; Francesca Joseph, M.D., Children's National; Johannes N. van den Anker, M.D.,Ph.D., vice chair of Experimental Therapeutics, Children's National; Gordon Schatz, president, Schatz Reimbursement Strategies;Mary Daymont, vice president of Revenue Cycle and Care Management, Children's National; and Michael Anderson, MD, MBA, FAAP, FCCM, FAARC, senior advisor to US Department of Health and Human Services (HHS/ASPR) and Children's National. The panel includes a special welcome by Sally Allain, regional head of Johnson & Johnson Innovation, JLABS @ Washington, DC.
NCC-PDI is one of five consortia funded by the Food and Drug Administration (FDA) to support pediatric device innovators in bringing more medical devices to market for children. Pediatric medical device development continues to lag significantly behind that of adult devices.
Published July 12, 2021