FDA Awards $10 Million to Support Regulatory Science, Medical Device Initiatives Co-led by Clark School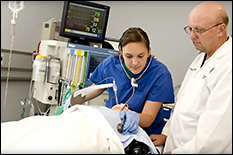 The U.S. Food and Drug Administration (FDA) this year awarded two separate grants of up to $5 million each in support of medical device and regulatory initiatives led by the University of Maryland A. James Clark School of Engineering, in partnership with the Children's National Health System and the University of Maryland, Baltimore, respectively. The grants ushered in five-year renewals of the National Capital Consortium for Pediatric Device Innovation (NCC-PDI) and the University of Maryland's Center of Excellence in Regulatory Science and Innovation (M-CERSI).
Led by the Clark School and the Children's National Health System, NCC-PDI works to foster development, production and marketing of the next generation of medical devices designed to meet growing children's unique needs. New Consortium members include BioHealth Innovation, Inc., a Maryland-based innovation intermediary that supports the transformation of research projects into new business opportunities, and MedTech Innovator, a California-based virtual startup accelerator that matches healthcare industry leaders with early-stage and emerging growth medtech companies for mentorship and support. NCC-PDI's affiliated members include industry leaders such as Smithwise, Epidarex, and Cadence.
Medical devices designed for people who are younger than 22 travel a slower path to market and there are fewer pediatric medical devices compared with devices used by adults. Adding to the complexity of device development, pediatric devices must be sized appropriately as children transform from newborns to toddlers to adolescents and young adults.
"Many of the health challenges that impact pediatric populations require unique resources, treatment, and expertise," said UMD Robert E. Fischell Institute for Biomedical Devices Director William E. Bentley. Bentley serves as NCC-PDI project lead, along with Kolaleh Eskandanian and Anthony Sandler, M.D., of Children's National.
"NCC-PDI is a vital partnership in that it fosters innovation and knowledge-sharing between inventors, researchers, clinicians, and policymakers, all for the betterment of children's health," Bentley said. "The Fischell Institute is proud to support NCC-PDI's mission by utilizing our resources, facilities, and expertise to help usher pediatric medical devices to market from the earliest stages of ideation through navigating the regulatory process."
NCC-PDI – like other nonprofit consortia funded by the FDA in Houston, Los Angeles, Philadelphia and San Francisco – encourages innovative pediatric devices by providing business, regulatory, legal, scientific, engineering and clinical expertise to strengthen pediatric device applications submitted to the FDA.
The FDA also awarded a five-year renewal grant to M-CERSI, a collaborative partnership led by William E. Bentley (Fischell Institute/Fischell Department of Bioengineering) and James Polli (University of Maryland, Baltimore School of Pharmacy). Established to contribute to modernizing and improving the ways in which drugs and medical devices are reviewed and evaluated, M-CERSI is one of only four FDA-funded CERSIs in the U.S., and the only to receive continuous funding from the FDA since it first launched in 2011.
"Partnering with the University of Maryland, College Park, and the FDA to launch M-CERSI has been very much like conducting an experiment," Polli said. "We knew there was a need to help modernize the field of regulatory science, but we had to determine how each university might best leverage its unique expertise and work with the FDA to address that need. Seven years later, the results of our experimentation have exceeded, and continue to surpass, everyone's expectations."
M-CERSI brings together researchers from across the University of Maryland's College Park and Baltimore campuses to focus on priorities outlined by the FDA, including improving preclinical assessments of the safety and efficacy of new drugs and devices; ensuring readiness to evaluate innovative and emerging technologies; harnessing diverse data through information sciences to improve health outcomes; and addressing minority health and health disparities. It also serves as an open forum to promote regulatory science exchange.
The renewed grant award from the FDA will not only help M-CERSI continue to advance its mission, but it will also allow Bentley and Polli to continue to grow the partnership and create new opportunities for faculty from UMD's College Park and Baltimore campuses to collaborate with the FDA on projects that span the spectrum of drug, biologics, and devices.
Two such projects, led in part by the Fischell Institute's Dr. Lester Schultheis, M.D., Ph.D., focus on biocompatibility of 3D-printed medical and dental devices.
Thanks to advances in 3D printing and additive manufacturing, clinicians can use consumer-grade 3D printers to fabricate point-of-care medical devices.
But, any medical device in physical contact with a patient should first be confirmed as compatible with the body. Until recently, the FDA did not have reference data to guide medical device manufacturers on how to use 3D printers safely for clinical applications.
Recognizing this, Schultheis and a team of researchers investigated whether a specific feedstock widely used as filament for consumer-grade 3D printers is in fact biocompatible for contact with skin and mucosal surfaces - such as the oral cavity or the esophagus - even after it is altered by the 3D-printing process. Additional work also resulted in a new assay to evaluate fluid penetration or adherence via biologically-exposed surfaces associated with 3D-printed medical devices.
"Our findings determined that specific chemical formulations of thermoplastic – when 3D printed using certain process controls – met FDA requirements for safety," Schultheis said. "This finding enabled ActivArmor, the first commercial manufacturer of 3D-printed external immobilization devices, to introduce their products nationwide."
Building on these efforts, Schultheis and Bentley are also leading a collaboration with the FDA to determine whether certain devices used in oral surgery and manufactured by 3D printing are fully biocompatible.
The team is focusing much of their work on evaluation of certain light-activated resins, 3D printing methods and post-processing techniques that may alter the chemistry of the 3D prints.
These efforts will provide the FDA with insight about novel 3D printing methods to prevent serious toxicological reactions when the devices are used in direct contact with bone. FDA is sponsoring this work to understand the potential risks and benefits associated with patient-specific medical devices that can be manufactured right at a bedside. Hospitals may then serve as small manufacturing centers to meet patient demand.
"The FDA is delighted to renew the M-CERSI cooperative agreement grant for five more years, reaffirming our commitment to support important collaborative regulatory science research projects that address our emerging needs and priorities," said Carol D. Linden, director of the FDA's Office of Regulatory Science and Innovation. "Since its inception in 2011, M-CERSI has provided valuable contributions to the FDA's scientific understanding of a wide range of medical product-related issues. We look forward to continuing these vital collaborations."
Published November 6, 2018