Stroka Named Outstanding Young Scientist by the Maryland Science Center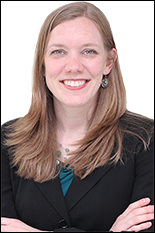 Fischell Department of Bioengineering (BIOE) Assistant Professor Kimberly Stroka (Ph.D. '11) was named a winner of the 2017 Outstanding Young Scientist (OYS) award by the Maryland Academy of Sciences and the Maryland Science Center. Stroka was one of four honorees who were recognized for their contributions to science and engineering at a ceremony hosted by the Maryland Science Center on Wednesday, November 15.
"The accomplishments of our 2017 honorees are impressive," said Mark Potter, president and CEO of the Maryland Science Center. "[The] four professionals are great examples of why Maryland is a hub of discovery and exploration, and they are great role models for today's STEM students."
Stroka was recognized for discovering a new fundamental mechanism for tumor cell migration by combining experimental techniques and theoretical modeling. Her efforts include using aquaporins – water channels that allow water flux across the cell membrane – as possible druggable targets for tumor cell metastasis.
To date, Stroka's work has led to the publication of 21 peer-reviewed journal articles, two first-author book chapters, 26 invited talks and seminars, as well as 68 additional presentations at international, national, and local conferences and meetings.
"It is such an honor to receive the Outstanding Young Scientist Award from the Maryland Academy of Sciences and Maryland Science Center," Stroka said. "­­­None of my work would be possible without the strong support of a huge number of mentors, mentees, collaborators, colleagues, friends, and family members throughout my life and career. I am excited to be able to give back to the state of Maryland through my research, teaching, service, and outreach, and my ultimate goal is for my work to have a real impact on society."
Most recently, Stroka and members of her Cell and Microenvironment Engineering Lab discovered a connection between biochemical cues from cells in the brain environment and breast tumor cell migration. Their findings, published in "Astrocytes from the brain microenvironment alter migration and morphology of metastatic breast cancer cells" in the FASEB Journal, point to key factors that cause breast cancer to metastasize to the brain.
"There is still so little researchers know about how and why tumor cells cross what is known as the blood-brain barrier to enter the brain environment, commonly referred to as brain tissue," Stroka said.
The blood-brain barrier is a semi-permeable barrier made up of brain endothelial cells that line the blood vessels in the brain. This barrier plays a critical role in protecting the brain from foreign substances in the blood, while allowing essential nutrients to reach the brain. Unfortunately, the BBB is so effective that it also hinders the delivery of potentially life-saving therapeutics to the brain.
To understand why breast tumor cells can overcome this barrier – while many targeted treatments cannot – Stroka and her team of researchers looked to study astrocytes, one of the most abundant cell types found in the brain. Astrocytes play a key role in supporting the BBB and brain homeostasis, but recent research indicates that they are also linked to brain metastasis and tumor cell survival across the BBB.
In fact, Stroka and her team have found that biochemical cues from astrocytes actually increase the speed of breast tumor cell migration by changing their shape. Even more, the research group discovered that when they applied the same biochemical cues directly to the extracellular matrix – the collection of proteins and carbohydrates that surrounds the cells – there was an even greater increase in tumor cell velocity.
Along with Stroka, Phillip Graff of Johns Hopkins University's Applied Physics Laboratory was awarded this year's OYS. The other two honorees, Lee Blaney of the University of Maryland, Baltimore County, and Adam Watkins of Johns Hopkins University's Applied Physics Laboratory, received the Outstanding Young Engineer (OYE) Award.
The OYS and OYE awards honor Maryland residents who are scientists and engineers 35 years old or younger working in academia, or 40 years old or younger working in other sectors. The OYS award was established in 1959 and the OYE award was inaugurated in 1988. Award recipients are chosen by members of the Maryland Academy of Sciences' Scientific Advisory Council.
"Our 2017 recipients come from such a variety of fields, it demonstrates just how many opportunities there are for young people to make our world a better place through science and engineering," said Dr. Stephen Schenkel, Chair of the Maryland Academy of Sciences' Scientific Council.


Published November 17, 2017