Kakarla Receives Huskamp Endowed Bioengineering Scholarship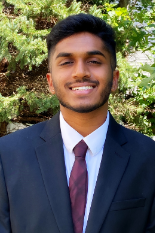 The Fischell Department of Bioengineering (BIOE) recently named junior Anish Kakarla the recipient of the 2020-2021 Jeffrey C. and Sandra W. Huskamp Endowed Bioengineering Scholarship.
Dr. Jeff Huskamp, the former Vice President and Chief Information Officer at the University of Maryland and Sandra Huskamp, the former Director of Operations for Bioengineering established this scholarship for BIOE undergraduates. The selected scholar is awarded $1,350 in funding over the course of a year.
Anish Kakarla grew up near the University of Maryland in Prince George's County. "For as long as I can remember, I have been interested in science," says Kakarla. "Because I lived close to campus, I always knew of UMD's reputation for excellence in bioengineering, and the research that was being conducted on campus." During his senior year of high school at Eleanor Roosevelt High School in Greenbelt, MD, Kakarla participated in a bioengineering crash course hosted by the Biomedical Engineering Society at the University of Maryland (BMES-UMD). "This crash course was my first exposure to the field of bioengineering, and I was immediately excited about a career in the field," Kakarla explains.
Kakarla lives with life-threatening food allergies, which inspires him to make improvements in the way that drugs are delivered to people suffering from allergies and asthma attacks. He is a junior in the BIOE Pre-Health Professions track, and is currently working on a 4D printing implementation project. His mentor is Department of Mechanical Engineering Professor David Bigio.
He is also the Vice President of Marketing in the South Asian Student Association, and a member of Gift to Uplift and Pi Sigma Epsilon on campus.
"I'm so grateful for this scholarship and the opportunities it will afford me," says Kakarla. "After graduation, plan to pursue a Master's degree in order to gain more knowledge in the field of bioengineering. After I earn a Master's degree, I plan on going to medical school. As a physician, I plan to use my background in bioengineering in clinical research directed toward drug delivery systems."
Published November 24, 2020