Herold Announces Retirement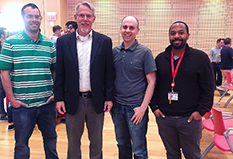 Fischell Department of Bioengineering (BIOE) Associate Professor Keith Herold announced his retirement from his full-time faculty appointment.
"It's been a good run for me – 32 years, and I've enjoyed every minute of it," Herold remarked in a speech during his May 15 retirement celebration.
Herold began working at the University of Maryland in 1987, when he joined the A. James Clark School of Engineering's Department of Mechanical Engineering as an assistant professor. His research centered on energy systems and absorption refrigeration.
Three years after a promotion to associate professor in mechanical engineering, Herold authored a comprehensive book about absorption refrigeration.
Herold's research focus began to shift from mechanical engineering to bioengineering – and in 2006, he was hired as an associate professor with BIOE. This type of career transition is uncommon, BIOE professor and founding chair William E. Bentley said. "It's a huge risk for somebody to say, 'I'm going to give up my degree, and my history, and move into a completely new field.'"
The mechanical-turned-biological engineering professor has been a fixture of the Fischell department; he became one of the first faculty members to support the undergraduate program in bioengineering and first Capstone class.
"Keith is a great colleague," said BIOE chair John P. Fisher. "He has great ideas about how to educate our engineers and the student population."
Herold demonstrated his dedication to student success as a faculty mentor in the University of Maryland's entry into the U.S. Department of Energy's Solar Decathalon competition in 2010-2011. Herold worked with 20-30 students as they built a WaterShed house which emulated the environment of the Chesapeake Bay. The house included a variety of plants and systematic methods for water purification. The project earned the University of Maryland a gold medal in the international contest.
In 2012, Herold co-edited a new book on the use of biosensors for cancer diagnostics, as part of the "Series in Sensors" produced by CRC Press. The book explored the latest alternatives to standard methods of genomic and proteomic cancer detection. Its mission was to bridge the gap between current research and clinical application, and to make biosensor technology more accessible to oncologists, pathologists, engineers, and molecular biologists.
In recent years, Herold and his lab group have focused much of their work on biosensors to detect nucleic acid signatures associated with pathogens, toxins, virulence factors and antibiotic resistance genes. Much of their work has been multidisciplinary, incorporating bioinformatics, MEMS device design, biochemistry, and microbiology. Their research has led to a unique understanding of the key variables that control the success of new device configurations.
A. James Clark School of Engineering faculty and staff celebrated Herold's accomplishments, career, and tireless dedication to students during his retirement celebration on May 15.
Clark School dean Darryll J. Pines spoke directly to Herold, saying: "You've been a great citizen of the college, and of mechanical engineering, and of bioengineering. We're most thankful for your service, and I wish you the best going forward."
Among other attendees were Herold's two daughters – Maria, who graduated from the University of Maryland with a B.S. in Finance and Supply Chain Management in 2016, and Isa, who graduated from the University of Maryland with a B.S. in Computer Science in 2019.
Clark School faculty and staff are exceptionally grateful for Keith Herold's hard work over the course of 32 years.
Published May 23, 2019