White Honored With BIOE Outstanding Faculty Teaching Award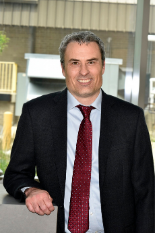 The Fischell Department of Bioengineering (BIOE) recently recognized Associate Professor Ian White with the BIOE Outstanding Faculty Teaching Award.
"Ian brings incredible enthusiasm to his work, particularly in his efforts with education and mentorship," said Fischell Family Distinguished Professor and Chair John Fisher. "We are all very fortunate to have Ian working with us, and we look forward to his continued excellence and leadership over the coming years."
In addition to his BIOE professorship appointment, Ian White is an Associate Chair and the Director of Undergraduate. White received his Ph.D. in Electrical Engineering from Stanford University in 2002, where he developed next generation optical metropolitan area communication networks. He then served as a Member of Technical Staff at Sprint's Advanced Technology Laboratories until 2005. At that time, White transitioned into the field of optical biosensors as a Postdoctoral Fellow in the University of Missouri Life Sciences Center. In 2008, he joined the BIOE faculty and was promoted to Associate Professor in 2014.
He received the University of Maryland Advisor of the Year Award in 2016. Three years later, he was recognized as an outstanding mentor alongside Philip Merrill Presidential Scholar Connor Hall.
White's research group - the Amplified Molecular Sensors Lab - aims to develop novel microsystems for applications in chemical analytics and disease diagnosis. In particular, the group emphasizes sample preparation for ease-of-use and amplified transduction techniques to improve detection performance.
"It's a great honor to be recognized for instructional efforts within a department that takes so much pride in teaching excellence," says White. "My colleagues in BIOE continually inspire me to get better and they frequently coach me on how to improve the quality of my teaching."
White will be recognized on the BIOE Awards Wall in A. James Clark Hall at University of Maryland.
Published March 1, 2021