Inglut Receives Outstanding GA and Doctoral Mid-Career Awards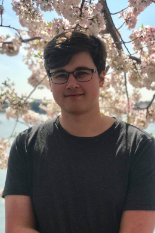 Fourth-year BIOE Ph.D. student Collin Inglut was recently named a recipient of the University of Maryland's Outstanding Graduate Assistant Award and the A. James Clark School of Engineering's Doctoral Mid-Career Award. Both accolades feature a monetary award; the UMD award recognizes the top 2 percent of the university's graduate assistants and the Clark School award recognizes academic achievement.
Inglut is a researcher in BIOE Assistant Professor Huang Chiao (Joe) Huang's Optical Therapeutics and Nanotechnology Lab. Huang's laboratory group integrates nanoscience and photobiology to help fight disease and improve health care. The team engineers nanometer-scale objects that allow optical and biophysical manipulation of diseases at various levels. This approach could facilitate the study of physiological barriers to drug delivery, multidrug resistance, and immune responses in living animals and clinical trials.
Along with fellow BIOE graduate student Barry Liang, Inglut was one of the first two Ph.D. candidates to join the research group in Fall 2017. Prior to enrolling at the University of Maryland, Inglut earned his B.S. in biomedical engineering from the Rochester Institute of Technology. During his five-year undergraduate program, he completed a co-op at Zimmer Biomet, where he studied the biochemical regeneration of stored erythrocytes.
"I'm leveraging photochemistry or photodynamic therapy to open up the blood-brain barrier and treat glioblastoma," Inglut said of his current research. "Glioblastoma is extremely deadly because the cells invade the healthy brain. Main tumor mass can be easily removed during surgery, but that's not where the problem lies. It's these infiltrative cells that invade the brain and can eventually lead to death. We're trying to use photodynamic therapy – specifically a low dose, since a high dose can kill the healthy brain tissue.
"We use this photodynamic therapy to open up the blood-brain barrier," he continued. "What we're trying to do is enhance the efficacy of the chemotherapy that comes afterwards. We're trying to insert this idea into the clinical workflow. After surgery, while the patient is still in the operating room, a low dose of photodynamic therapy would be administered. We're hoping to boost that efficacy so we can target these infiltrative cells."
Since beginning his Ph.D. studies, Inglut has mentored three undergraduate students, who have all graduated from the BIOE department. He cites his biggest accomplishment as his presentation at the 2019 International Photodynamic Association Biennial World Congress, an event that brings together members of the global photodynamic community to advance scientific and clinical research relating to photodiagnosis and photodynamic therapies.
In September 2020, Inglut began working as a Research Assistant at the National Cancer Institute (NCI), a division of the National Institutes of Health (NIH) in Bethesda, MD. The NCI-UMD Partnership for Integrative Cancer Research allows Inglut and other UMD Ph.D. students to tackle pressing needs in cancer research under the mentorship of NIH scientists with basic, clinical, and translational expertise. He has spent the past six months working in both Huang's BIOE Lab and in Dr. Michael M. Gottesman Laboratory of Cell Biology at NCI.
Inglut hopes to bring his research expertise and leadership skills to an industry or government workplace in the future. In his free time, Inglut enjoys making his own espresso and co-managing a D.C.-centric food account on Instagram.
Published February 22, 2021