Chapin, Wang Named 2019-2020 Fischell Fellows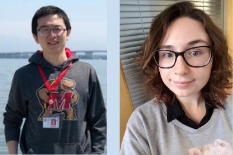 In August, the Fischell Department of Bioengineering (BIOE) announced two recipients of the 2019-2020 Fischell Fellowship: Ashley Chapin and Dongyi Wang. Both researchers are fifth-year Ph.D. students.
The Fischell Fellowship in Biomedical Engineering is a unique opportunity for talented and innovative graduate students interested in applied research and product design in the biomedical industry, established in 2003. Each Fischell Fellow will receive a $2,000 award in addition to department support for their Graduate Research Assistantship.
Long Island native Ashley Chapin inherited a love of science from her parents, who both cultivated successful careers as neuroscientists. "Science has been in my family for my whole life," she explains. In high school, Chapin excelled in laboratory experiments and science courses. Her AP chemistry teacher noted that in addition to mathematical skills, Chapin possessed the natural curiosity and applied creativity of an engineer.
"That teacher really was so influential in getting me thinking about my career," Chapin recalls. "Both her and my mom." After high school, she began her undergraduate studies in biological engineering at the Massachusetts Institute of Technology outside of Boston. Much of her research focused on protein engineering - manipulating DNA to design protein structures for various functions. She decided to pursue a doctoral degree in bioengineering after graduation, and began her Ph.D. in August 2016.
"What I first liked about University of Maryland was that there was a large breadth of bioengineering research, not just on the molecular side," the now fifth-year Ph.D. student explains. "For instance, now I'm able to learn about more classical MEMS electrode design, alongside electronics and packaging. BIOE is very collaborative. I think it was a really good transition for me to find a school that looked at bioengineering from a different perspective."
Chapin is co-advised by Bill Bentley (BIOE) and Reza Ghodssi (ISR); she does research in Bentley's Biomolecular and Metabolic Engineering Laboratory and Ghodssi's MEMS Sensors and Actuators Laboratory.
"My research is on the gut-brain axis," Ashley Chapin explains.The gut–brain axis is the biochemical signaling that takes place between the gastrointestinal tract and the central nervous system. Developing a tissue engineering platform to study this axis is her primary goal, while engineering bacteria and utilizing bacterial culture practices is essential to her gut research. "Using the expertise from both labs is something that makes my research a lot stronger."
Chapin's dissertation work is titled "Serotonin Sensor Technology Integration into In Vitro and In Vivo Systems as Research and Clinical Tools to Address the Gut Brain Axis." She was recently named an international finalist in the Three-Minute Thesis competition for her "Demystifying the Gut-Brain Axis" video presentation.
The Ph.D. student is excited to expand upon her research on the gut microbiome and nutrition. "I like the idea of moving on with different kinds of sensors," Chapin explains. "I think quantifying and studying different aspects of the processes of the body in humans is important to do. We've done so much research in animals, but it's sometimes not as applicable as you'd like to human research." She is excited by the potential to develop wearables and implantables - "not just for disease diagnostics, but for human health monitoring, to give people the opportunity to understand their health on a day-to-day basis."
The newly named Fischell Fellow expresses gratitude for this recognition. " I didn't even know that the Fischell Fellowship could be an opportunity coming my way. I am extremely humbled to be recognized, and I appreciate the opportunity that the department gives students like me to reflect on the work that we've done that is valuable. Sometimes it's hard to see the value in your work until you receive a recognition like that. I'm very thankful."
Fischell Fellow Dongyi Wang grew up in Wuhu, a city in the Anhui province of China. As a young student, Wang excelled in mathematics and found himself drawn to innovation and improving the utility of the world around him. "I wanted to apply my math skills to different areas of study," Wang explains. "That's why I went to engineering."
In 2012, Wang began his undergraduate studies in electrical engineering at Fudan University in Shanghai. Earning his degree in Shanghai afforded Wang and his peers many resources - including connections with nearby hospitals and top medical researchers. "During my undergraduate research, I had the chance to get access to the cutting edge medical devices and medical data," the now-fifth-year Ph.D. student explains. "And specifically, I joined a lab in my school and used machine vision or image processing to analyze traditional Chinese medicine problems."
After completing his undergraduate degree in 2016, Wang joined the Fischell Department of Bioengineering as a Ph.D. student. One of his goals was to apply his image processing knowledge to the broader field of medicine using data and artificial intelligence. He joined Yang Tao's Bio-Imaging and Machine Vision Laboratory. The group's research focuses on the application of machine vision to industrial automation, food processing, biomedical and agriculture applications. One of Wang's research interests is ophthalmology - a branch of medicine and surgery which deals with the diagnosis and treatment of eye disorders. His research also includes bioresources engineering with food automation and agriculture-related applications. "I'm fortunate that my research in the lab matches my interests very well," Wang says.
Wang has also had the opportunity to work with University of Maryland School of Medicine (UMSOM) Ophthalmology and Visual Sciences Professor Osamah Saeedi.Saeedi is a BIOE adjunct professor, and the UMSOM Director of the Glaucoma Division and Director of Clinical Research.
"I'm most interested in whether or not functional imaging can promote understanding of different eye diseases like glaucoma and diabetes," Dongyi Wang explains. "My main interest is designing new disease sensing techniques, and applying artificial intelligence to help human life." He is working to develop a new fluorescence imaging technique called erythrocyte mediated angiography. It is the first technique which can directly qualify blood flow dynamics in the retinal studies.
Wang counts the collaborative spirit of BIOE as one of his favorite aspects of the department. "I'm coming from an electrical engineering background, and my principal investigator Yang Tao is coming from an automation and food engineering background - so this gives everyone working together a diverse skillset and a different point of view," he explains. "Also, every lab in our department is strongly connected. There are a lot of collaborations happening."
Wang hopes to remain in the academic world as a postdoctoral researcher or faculty member after he completes his Ph.D. He was "very excited" to be named a 2019-2020 Fischell Fellow, noting how "lucky" he feels. "A lot of my friends, a lot of my class, and everyone in the department is really fantastic. I can't wait to see all of the great research that I know we can do."
Published October 12, 2020